Top 10 Aussie Streaming Charts: Classic Baseball Movie On Top (Week Ending 15 August 2021)
Sean Fang
Tue, 17/08/2021 - 14:45
Welcome again to our weekly feature where we look at the most popular streaming movies and TV shows in Australia based on data collected by streaming search engine JustWatch. Data includes subscription streaming as well as transactional streaming titles. Click here to read last week's roundup.
Movies:
"Build it and they will stream". Or something like that. The Kevin Costner classic baseball film "Field of Dreams" (stream it on Stan) was the most streamed movie for the week ending 15 August 2021. While you can never be too sure what the reason for this is, but the recent MLB Field of Dreams game might be the inspiration behind this. There is also the news that a TV version of the movie is coming to Peacock (US network NBC's streaming platform), to be helmed by The Good Place creator Mike Schur, but this news only came today, so that's probably not it.
"A Quiet Place" silently slipped back into the top 10 following last week's disappearance, but "Jungle Cruise" dropping out of the top 10 was a bit of a surprise, given its high second-place finish last week and given that it was only recently released.
Antoine Fuqua's sci-fi thriller "Infinite" was new to the top 10 - and the streaming platform that it's on is also significant - the recently launched Paramount+. The fact that "A Quiet Place" is also on here might explain why it got back into the top 10.
The last of new entries into the top 10 was "Spider-Man: Far From Home". The big movers were "Suicide Squad" dropping from 1st to 5th and "Hitman's Wife's Bodyguard" dropping from 3rd to 8th. The even bigger movers (the ones that dropped out of the top 10 entirely) were the previously mentioned "Jungle Cruise", along with "In the Heights", "Promising Young Woman", "Peter Rabbit 2", and The Croods: A New Age.
Click on the image below to see a larger version.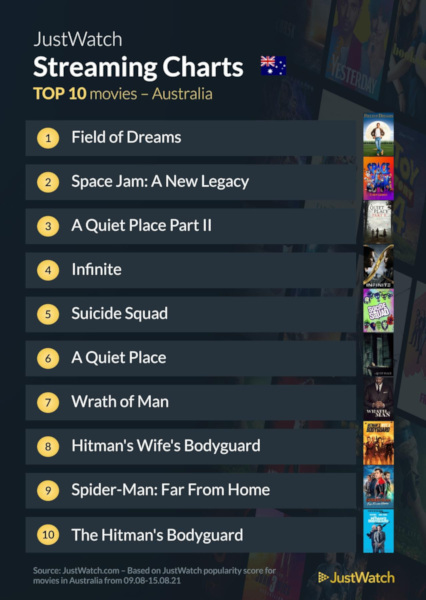 Television:
Mike White's watercooler show about inequality (and so much more), "The White Lotus", continued to sit at the top of the TV streaming charts.
It was followed by the newcomer, the comedy series "Reservation Dogs" (Binge), and "Ted Lasso".
Also new to the top 10 were "Titans" (previous 2 seasons on Netflix) and the new season of "Brooklyn Nine-Nine" (previously seasons on Netflix, new season on SBS On Demand and premium VOD outlets).
As is required when 3 new shows enter the top 10, "Dexter" left as stealthily as it arrived last week, along with "Doctor Who" and The Pursuit of Love had to leave it.
Click on the image below to see a larger version.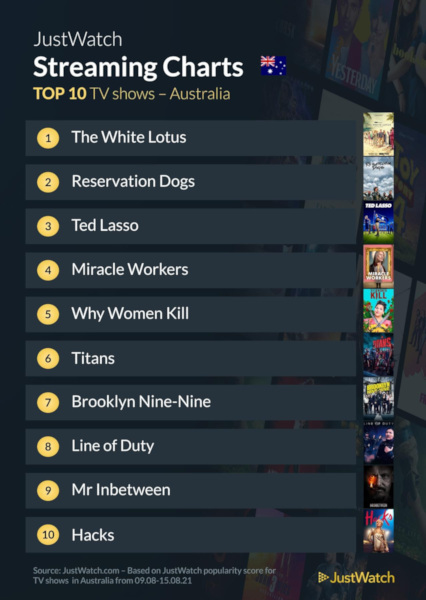 Looking for more content to watch, or looking to see where you can stream that TV or movie you want to watch? JustWatch allows you to easily search for a piece of content and find out how to stream it legally in Australia.