Top 10 Aussie Streaming Charts: Action-Comedy Sequel Tops Movie Charts (Week Ending 8 August 2021)
Sean Fang
Tue, 10/08/2021 - 13:05
Welcome again to our weekly feature where we look at the most popular streaming movies and TV shows in Australia based on data collected by streaming search engine JustWatch. Data includes subscription streaming as well as transactional streaming titles. Click here to read last week's roundup.
Movies:
Once again, we have proven that the cinemas directly affect what's happening at home. "The Suicide Squad" at a movie place near you (probably not in NSW/VIC though) has inspired people to stream the original "Suicide Squad" movie, which was the most-streamed movie in Australia in the past week.
"Jungle Cruise", available in theatres as well as at home with Disney+ Premier Access, was also new to the top 10, and in second place.
The bottom three were all new too, well, sort of. The highly recommended and thought-provoking "Promising Young Woman" makes a return to the top 10 in 8th, while "Peter Rabbit 2" also makes a return to the top 10, in 9th. The Croods: A New Age enters the top 10 thanks to its release on Amazon Prime Video, Australia's second most popular streaming platform.
Otherwise, all the recent hits are still there, including "Hitman's Wife's Bodyguard" and "A Quiet Place Part II".
With 5 coming into the top 10, 5 had to leave, and they were "A Quiet Place", "Mortal Kombat", "Lake Mungo", "Ghostbusters" and "Space Jam".
Click on the image below to see a larger version.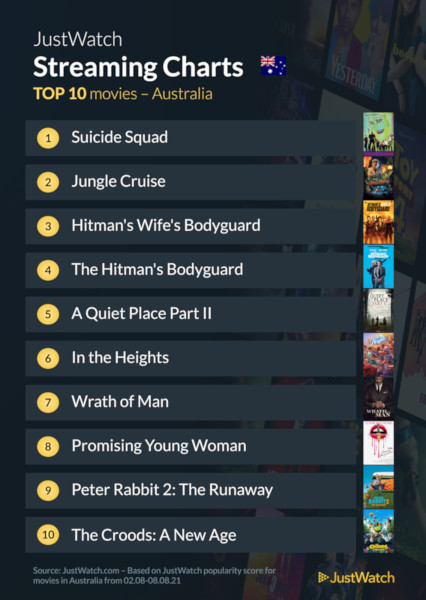 Television:
HBO's much-talked-about satire "The White Lotus" made its move and is now at the top of the TV streaming charts, leaping over "Ted Lasso" who dropped to second-place.
Hacks, newly added to Stan just last week, also entered the top 10 with a strong 4th place finish. Also on Stan (Australia's third most popular streaming platform), Micracle Workers also entered the top 10 at 9th place.
Amazon Prime's The Pursuit of Love rounded off the top 10, at 10th.
Re-entering the top 10 was "Mr Inbetween".
The four shows that left the top 10 this week were "Dr. Death", "Innocent", "Baptiste", and "Wellington Paranormal".
Click on the image below to see a larger version.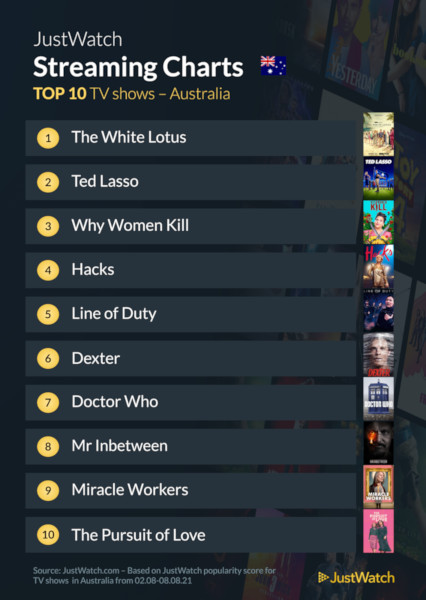 Looking for more content to watch, or looking to see where you can stream that TV or movie you want to watch? JustWatch allows you to easily search for a piece of content and find out how to stream it legally in Australia.