Top 10 Aussie Streaming Charts: Action-Comedy Sequel Tops Movie Charts (Week Ending 1 August 2021)
Sean Fang
Wed, 04/08/2021 - 16:05
Welcome again to our weekly feature where we look at the most popular streaming movies and TV shows in Australia based on data collected by streaming search engine JustWatch. Data includes subscription streaming as well as transactional streaming titles. Click here to read last week's roundup.
Movies:
"A Quiet Place Part II" has been knocked off the top spot by the action-comedy sequel "Hitman's Wife's Bodyguard" in the top 10 movie streaming charts for the week ending 1 August 2021. "A Quiet Place Part II" was still in second place.
New to the top 10 was the 2021 reboot of "Mortal Kombat", coming in at 7th. The action film based on the iconic video game of the same name, and a reboot of the 1995 adaptation, has been well received by fans and had enjoyed enormous streaming success in the US when it was released simultaneously in theatres and on the streaming platform HBO Max.
Australian horror flick "Lake Mungo" entered the top 10 at 8th - no explanation was provided as to what led this to happen 3 years after the film's original release (it did not get released on any of the subscription-based platforms). "Ghostbusters" re-entered the top 10 as well, perhaps related to the release of the second Ghostbusters: Afterlife trailer last week - the classic film is currently available to stream on Amazon Prime Video.
"Wrath of Man" also returns to the top 10 after a week's absence.
Leaving the top 10 were "Promising Young Woman" and The Tomorrow War, both after a good run in the top 10, and "Idiocracy" and "Midsommar".
Click on the image below to see a larger version.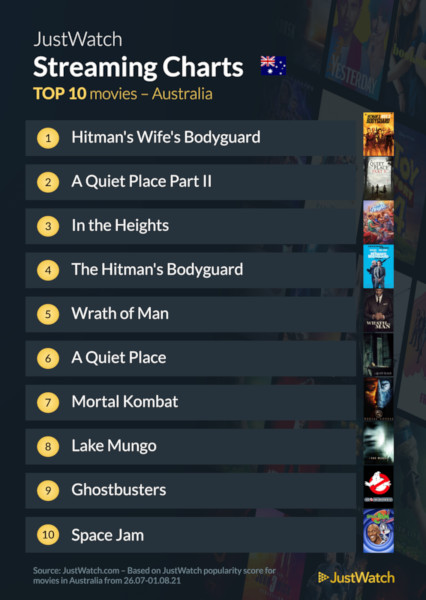 Television:
In television, "Ted Lasso" remained at the top of the charts, with HBO's "The White Lotus" (Binge) and "Why Women Kill" (SBS On Demand) rising in the charts to 3rd and 4th respectively.
There is a strong second-place debut for the classic serial killer black comedy "Dexter", very likely on the backs of the new trailer for the special event series that continues where the original series left off, "Dexter: New Blood" (being a Showtime series, the most likely Australian home for the miniseries when it gets released is Stan). "Doctor Who" re-enters in 9th place.
After another good run, "Mr Inbetween" leaves the top 10 along with "American Horror Story" and "More of Easttown".
Click on the image below to see a larger version.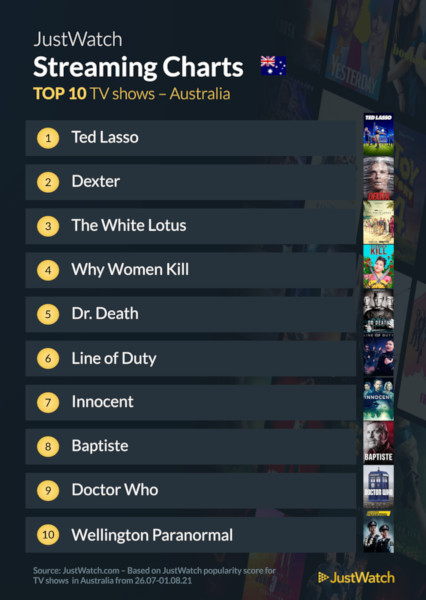 Looking for more content to watch, or looking to see where you can stream that TV or movie you want to watch? JustWatch allows you to easily search for a piece of content and find out how to stream it legally in Australia.