Top 10 Aussie Streaming Charts: Season 2 of Surprise Apple TV+ Hit Tops TV Chart (Week Ending 26 July 2021)
Sean Fang
Tue, 27/07/2021 - 18:01
Welcome again to our weekly feature where we look at the most popular streaming movies and TV shows in Australia based on data collected by streaming search engine JustWatch. Data includes subscription streaming as well as transactional streaming titles.
Movies:
"A Quiet Place Part II" and the original film that inspired the sequel "A Quiet Place" took the top 2 spots in the top 10 most streamed movie charts this week, with "A Quiet Place" displacing "Space Jam" (the original) from second place. Two more original/sequel pairs occupied the third and fourth spots, "Hitman's Wife's Bodyguard" and "The Hitman's Bodyguard".
New to the top 10 was "In the Heights", the Lin-Manuel Miranda musical directed by "Crazy Rich Asian" director Jon M. Chu, in 7th place. "Promising Young Woman" and "The Tomorrow War" both still hold a space in the top 10, while 2006's classic "Idiocracy" enters the top 10 for some reason (other than the obvious parallels with today's brand of politics).
Click on the image below to see a larger version.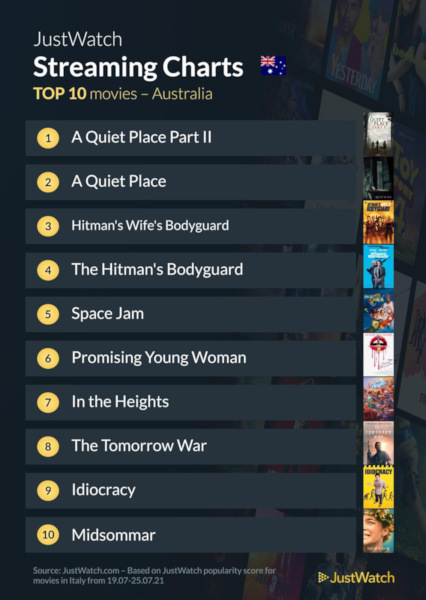 Television:
The premiere of the second season of "Ted Lasso" saw the show jump to a well deserved top spot on the TV charts. "Innocent" (ABC view), "Baptiste" (Binge), and "Why Women Kill" (SBS On Demand) all enter the top 10, while HBO's "Mare of Easttown" (Binge) makes a return.
Click on the image below to see a larger version.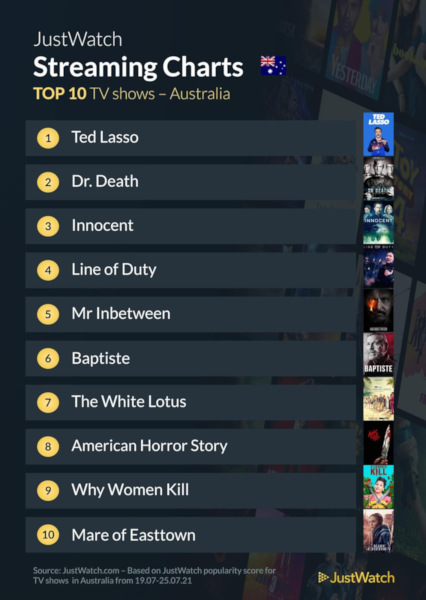 Looking for more content to watch, or looking to see where you can stream that TV or movie you want to watch? JustWatch allows you to easily search for a piece of content and find out how to stream it legally in Australia.