Netflix USA: What's New in April 2019
Sean Fang
Sat, 30/03/2019 - 16:37
Time again to look at what's going to be happening on the US version of Netflix, this time for April. April has Easter, the school holidays and some lovely weather, regardless of which hemisphere you're in.
For Australians (or non USA residents really) that want to access the US version of Netflix, which has if not more content, then at least different content than the local version, the best way to do that is described in our updated guide here. Sure, there are other ways, cheaper ways, but none more reliable than what we have tested (and what we are actually using for ourselves). And sometimes the opposite is true, and if you're in the US, you might also want to check out some of the stuff in the Australian version that you won't get back home (which this month includes TV shows like 'New Girl' season 7, and movies like 'The Hateful Eight', 'Burning' and 'The Fifth Element ') - our method works the other way too!
And while Netflix's library is out of sync geographically, there are still a lot of the same additions regardless of where you are, especially when it comes to Netflix originals. And so this article focuses on content that you won't get in Australia or hasn't been covered by our 'Netflix Australia: What's New in April' article (and also some stuff already covered but so good that they deserve a second mention), and so a quick glance of that article is recommended as well.
Television:
If there's one major genre of show that's Netflix hasn't really tried to make, it has to be the zombie genre. I'm talking more about 'The Walking Dead' than 'Santa Clarita Diet', but there is now also 'Black Summer'. It's a prequel set in the 'Z Nation' universe, focusing on the early days of the zombie apocalypse. Stream the entire first season starting April 11.
These two I've talked about already in our Netflix Australia April article, but are worth mentioning again because they're bound to be talking points in April. 'The Chilling Adventures of Sabrina: Part 2' premieres April 5, and the cool remake/reimagining of what was a funny and adorable show from the '90s has been a bit hit (and I wish they would take more shows from then and do something radically different to them - maybe a 'Family Matters' remake where Steve Urkel is actually a serial killer who has already killed his entire family, and that's why they never show up on the show).
Then there's the interactive 'You vs. Wild' (April 10), where you control the fate of Bear Grylls as he sets out on another one of his adventures. So if he falls off a cliff repeatedly because you keep on making that choice, then that's what the show will be about (this Netflix preview has taken a rather dark turn).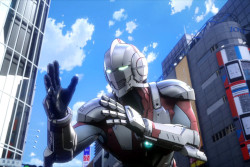 For the young and young at heart, season 2 of 'Pokémon the Series: Sun & Moon' and Netflix's take on 'Ultraman' both arrive on April 1, along with the adorable 'Rilakkuma and Kaoru' on April 19.
And returning for the seventh and final season is 'New Girl' (April 10), the funny series will give fans some closure regarding the fate of Jess and the gang. Spoiler alert: they all live happily ever after. Except for Coach.
Movies, Documentaries:
There are some great movies coming to the U.S. version of Netflix in April, including some great non English pics. Before we get to that, we have 'The Silence', which seems to be Netflix's answer to 'A Quiet Place' with a bit of 'Bird Box' thrown in. You can stream the horror film, which stars Mad Men's Kiernan Shipka and The Hunger Game's Stanley Tucci, on April 12.
On to those World Movies, first is Denmark's 'A Fortunate Man' ('Lykke-Per'), which is about a young man that breaks away from his devout Christian family to pursue a career in engineering, only to end up in a relationship with the elder daughter of a wealthy Jewish family. The film was the Danish entry for the Best Foreign Language Film at the 91st Academy Awards and you can stream it starting April 19.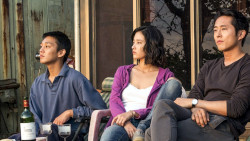 'Burning' comes from South Korea and stars The Walking Dead's Steven Yeun, and interestingly, was South Korea's entry for the Best Foreign Language Film at the 91st Academy Awards. It's one of the most acclaimed movies of 2018, with plenty of twists, turns and mysteries to keep you glued to the screen until the final moment. Stream it on April 29.
Other highlights includes the extended version of Quentin Tarantino's 'The Hateful Eight' (April 25), and classics like 'I Am Legend', 'The Fifth Element' and 'Pineapple Express', all arriving on the first day of April.
And already mentioned in our Australian Netflix April preview, 'Our Planet' is Netflix's answer to the magnificent nature documentary series 'Planet Earth', and also narrated by Sir David Attenborough. Be awed starting April 5.
Leaving Netflix:
As usual, lots of great content will be leaving Netflix in April, including the likes of 'American Pie', 'Heat', 'L.A. Confidential', 'Silver Linings Playbook', 'Luther: Series 1-4', and in anticipation of the upcoming war against Disney, the deletion of all 'Star Wars: The Clone Wars' content.
------
So that's April on the U.S. version of Netflix. Pretty good, eh?
April Schedule:
Here's a list of everything that's coming to the US version of Netflix in April. Content highlighted above shown in bold below.
Available April 1
Across The Line
All the President's Men
The Bone Collector
Bonnie and Clyde (1967)
Deliverance
Divine Secrets of the Ya-Ya Sisterhood
Evolution
The Fifth Element
Freddy vs. Jason
Friday the 13th (2009)
The Golden Compass
I Am Legend
Lakeview Terrace
Monster House
Obsessed
Penelope
Pineapple Express
Pokémon the Series: Sun & Moon: S2
P.S. I Love You
The Sisterhood of the Traveling Pants
The Sisterhood of the Traveling Pants 2
Snatch
Spy Kids
Texas Chainsaw Massacre 3D
Ultraman
Valkyrie
April 2
Kevin Hart: Irresponsible
April 3
Suzzanna: Buried Alive
April 5
The Chilling Adventures of Sabrina: Part 2
In The Shadows
Legacies: Season 1
Our Planet
Persona: Collection
Roman Empire: Caligula: The Mad Emperor
Spirit Riding Free: Season 8
Tijuana
Unicorn Store
April 9
Trolls: The Beat Goes On!: Season 6
April 10
New Girl: Season 7
You vs. Wild
April 11
Black Summer
April 12
A Land Imagined
Band Aid
Huge in France
Mighty Little Bheem
The Perfect Date
The Silence
Special
Who Would You Take to a Deserted Island?
April 15
Luis Miguel – The Series: Season 1
No Good Nick
The New Romantic
April 16
Super Monsters Furever Friends
April 18
My First First Love
April 19
A Fortunate Man
Brené Brown: The Call to Courage
Cuckoo: Season 5
I, Daniel Blake
Music Teacher
Rilakkuma and Kaoru
Samantha!: Season 2
Someone Great
April 20
Grass is Greener
April 22
Pinky Malinky: Part 2
Selection Day – New Episodes
April 23
I Think You Should Leave with Tim Robinson
April 24
Bonding
April 25
The Hateful Eight: Extended Version
The Ugly Truth
April 26
The Protector: Season 2
ReMastered: Devil at the Crossroads
She-Ra and the Princesses of Power: Season 2
Street Food
The Sapphires
Yankee
April 27
American Honey
April 28
Señora Acero: Season 5
April 29
Burning
The Imitation Game
April 30
Anthony Jeselnik: Fire in the Maternity Ward
Baki: Part 2
Ingress: The Animation
Leaving Netflix in April:
Leaving April 1
American Pie
Billy Madison
Blue Mountain State: Seasons 1-3
Casino Royale
Diamonds Are Forever
Die Another Day
Don't Be a Menace to South Central While Drinking Your Juice in the Hood
Goldfinger
Happy Feet
Happy Gilmore
Heat
I Love You, Man
L.A. Confidential
Live and Let Die
The Living Daylights
Luther: Series 1-4
The Man with the Golden Gun
Octopussy
Pokémon: XY: Seasons 1-2
Seven
Sex and the City: The Movie
The Spy Who Loved Me
Wallander: Series 1-4
The World Is Not Enough
You Only Live Twice
April 4
Raw
April 7
Star Wars: The Clone Wars
Star Wars: The Clone Wars: Seasons 1-5
Star Wars: The Clone Wars: The Lost Missions
April 13
Video Game High School: Seasons 1-3
April 18
Silver Linings Playbook