Stan: What's New For February 12 - 18, 2019
Sean Fang
Mon, 18/02/2019 - 18:14
Price rise notwithstanding, Stan still represents terrific value, and after you take a look at what's just been added over the last week, I'm sure you'll agree too.
Television:
There's a new series starring a couple of Hollywood heavyweights (despite their relatively diminutive size) in the form of Miracle Workers. There seems to be quite a lot of shows these days with an added dose of spirituality and Miracle Workers' comedic premise of God planning on destroying Earth after seeing what it has become (can't really blame Him really), and two angels with an almost impossible task to prevent disaster for humanity, sounds like a winning one especially with the involvement of Steve Buscemi and Daniel Radcliffe. You can stream the first episode right now, with new episodes coming every Wednesday.
If mystery thrillers are your thing, then it doesn't get too much better than Revenge. You can now binge the entire series, all four seasons, right now.
Movies, Documentaries:
Another impressive movie additions list (see below), and Stan's love affair with the '90s continues this week with some downright classics and forgotten gems. There's no denying the irresistible charm of Pretty Woman, despite the somewhat questionable ethics and definition of romance looking at the movie through the lens of time. Still, a fun and, I guess romantic-ish (?), movie.
Now here's one I haven't seen for a while, but have never forgotten. Jodie Foster and Dianne Wiest are at their best in Little Man Tate, about a boy genius and his well-meaning mother who struggles to deal with the attention the boy's extraordinary talents bring.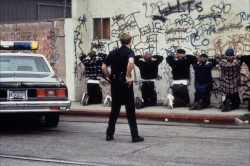 Here's a movie that was before its time. Colors looks at the gang violence on the streets of South Central L.A. from the perspective of two cops, not straying too far from the old cop, young cop trope. All of this may seem quaint in the age of Black Lives Matter, but the film has an important lesson to teach, especially about policing, that I think is even more important than ever today. The film also introduces a number of notable stars of the future, see if you can spot them all!
If you're looking for something new, don't forget to check out Ant-Man (just one of the more recent reasons why Stan had to raise its prices), and the "not bad considering it's a remake" The Magnificent Seven.
Release List:
Here's the complete list of the new additions to Stan for the week of February 12 - 18, 2019 (Content highlighted above shown in bold below):
Television:
SMILF - Season 1, Episode 4
Black Monday - Season 1, Episode 4
RuPaul's Drag Race: All Stars - Season 4, Episode 10
Will & Grace - Season 2, Episode 11
Revenge - Complete Series (Season 1-4)
I Am The Night - Season 1, Episode 3
The Circus - Season 4, Episode 3
Miracle Workers - New Series Premiere (Season 1, Episode 1)
Movies, Documentaries:
Malice
Love and Death
Folies Bergere
The Delta Force
Delta Force 2: The Colombian Connection
Mountain
Ant-Man
Arbitrage
Masters Of The Universe
Max
Weekend (2011)
Pretty Woman
The Magnificent Seven (2016)
If I Stay
Some Girls
Room In Rome
Pathology (2008)
Wuthering Heights (1970)
Leviathan
Little Man Tate
Colors
Broadway Danny Rose
Beautiful Lies