Netflix USA: What's New in November 2018
Sean Fang
Wed, 31/10/2018 - 15:26
October has (mostly) gone, which means things are about to ramp up to Christmas. And while November does hold a distinct "almost Christmas" flavour in terms of the releases, there are still plenty of regular stuff for us regular folk.
For Australians (or non USA residents really) that want to access the US version of Netflix, which has if not more content, then at least different content than the local version, the best way to do that is described in our updated guide here. Sure, there are other ways, cheaper ways, but none more reliable than what we have tested (and what we are actually using for ourselves). And sometimes the opposite is true, and if you're in the US, you might also want to check out some of the stuff in the Australian version that you won't get back home (which this month includes TV shows like 'The Good Place' season 3, and movies like 'The Intern', 'The Commuter' and 'Arrival') - our method works the other way too!
And while Netflix's library is out of sync geographically, there are still a lot of the same additions regardless of where you are, especially when it comes to Netflix originals. And so this article focuses on content that you won't get in Australia or hasn't been covered by our 'Netflix Australia: What's New in November' article, and so a quick glance of that article is recommended as well.
Television:
I've covered most of the TV highlights in the Australian version of this article, but the sixth and final season of 'House of Cards' (starts streaming November 2) deserves some extra mention, for nothing else other than the interesting way Netflix has dealt with the forced departure of Kevin Spacey. It might prove to have been easier to simply cancel the series at the conclusion of season 5, but for those already invested 5 good years into the series, the final season should provide some closure.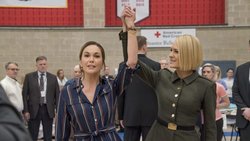 The premise of the children/family sitcom 'Prince of Peoria' sounds pretty familiar (a 13-year-old prince from a wealthy island kingdom" that "travels to the U.S. to live incognito as an exchange student" and "strikes up an unlikely friendship with Teddy, a fastidious overachiever who is Emil's total opposite), but that's probably why it will be a hit. You can stream the entire season 1 starting November 16.
Movies, Documentaries:
In movies, 'The Ballad of Buster Scruggs' (November 16) is the Coen brother's answer to Netflix's call for an original film. The film itself is a Western anthology, and from the trailer, it looks to have the usual Coen brothers flair.
Netflix is doing a sequel to its own original film in 'A Christmas Prince: The Royal Wedding' (November 30). Expect the usual Christmassy schmaltz fest that the whole family can enjoy (not sarcastic).
Some classic releases coming to Netflix for the first time, or coming back to Netflix from before, include the sci-fi classic 'Children of Men' and Marvel's 'Doctor Strange', both arriving November 1. 'Pirates of the Caribbean: At World's End' starts streaming on November 4.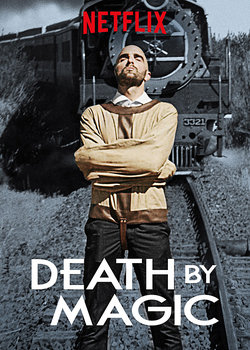 There are some very interesting documentaries on Netflix this month too. 'The Pixar Story' (November 18) is from a while ago, but it does a pretty good job of detailing the early days of the now iconic computer animation studio. A foodies doco classic can be found in 'Jiro Dreams of Sushi' (November 22) - you'll never look at sushi in the same way again. And Netflix's original documentary series 'Death by Magic' (November 30) follows British magician Drummond Money-Coutts as he travels the globe and uncovers the true stories behind magic gone wrong - and then ups the ante by trying to perform these tricks that have proved fatal for other magicians.
Leaving Netflix:
As usual, there are some quality content that won't be on Netflix by the end of November, some highlights include the 'Jurassic Park' trilogy (leaving November 1), the funny and uplifting 'Paddington' (November 16), and you'll no longer be able to live vicariously through these bosses to fulfill your dream of a) being a boss, b) being rich, as the first 5 seasons of 'Undercover Boss' is leaving November 17.
------
So that's November on the US version of Netflix, or at least some of the highlights I think will be a big hit with viewers. I'm almost always wrong with my predictions though, so I fully expect 'The Holiday Calendar' to be biggest hit of November.
November Schedule:
Here's a list of everything that's coming to the US version of Netflix in November. Content highlighted above shown in bold below.
Available November 1
Angela's Christmas
Bram Stoker's Dracula
Bring It On: In It to Win It
Cape Fear
Children of Men
Close Encounters of the Third Kind
Cloverfield
Deuce Bigalow: European Gigolo
Doctor Strange
The English Patient
Fair Game — Director's Cut
Follow This: Part 3
From Dusk Till Dawn
Good Will Hunting
Jet Li's Fearless
The Judgement
Julie & Julia
Katt Williams: The Pimp Chronicles: Pt. 1
National Lampoon's Animal House
Next Avengers: Heroes of Tomorrow
Planet Hulk
Scary Movie 2
Scary Movie 3
Sex and the City: The Movie
Sixteen Candles
Stink!
Transcendence
The Untold Tales of Armistead Maupin
Vaya
The Water Horse: Legend of the Deep
November 2
Brainchild
House of Cards: Season 6
ReMastered: Tricky Dick & The Man in Black
The Holiday Calendar
The Other Side of the Wind
They'll Love Me When I'm Dead
Trolls: The Beat Goes On!: Season 4
November 3
Hoodwinked Too! Hood vs. Evil
November 4
Pirates of the Caribbean: At World's End
Patriot Act with Hasan Minhaj
November 5
Homecoming: Season 1
John Leguizamo's Latin History for Morons
November 7
Into the Forest
November 8
The Sea of Trees
November 9
Beat Bugs: Season 3
La Reina del Flow
Medal of Honor
Outlaw King
Spirit Riding Free: Season 7
Super Drags
The Great British Baking Show: Collection 6
Treehouse Detectives: Season 2
Westside
November 12
Green Room
November 13
Loudon Wainwright III: Surviving Twin
Oh My Ghost
Warrior
November 15
May The Devil Take You
The Crew
November 16
Cam
Narcos: Mexico
Ponysitters Club: Season 2
Prince of Peoria
She-Ra and the Princesses of Power
The Ballad of Buster Scruggs
The Break-Up
The Kominsky Method
The Princess Switch
November 18
The Pixar Story
November 19
The Last Kingdom: Season 3
November 20
Kulipari: Dream Walker
Motown Magic
Sabrina
The Final Table
Trevor Noah: Son of Patricia
November 21
The Tribe
November 22
Jiro Dreams of Sushi
Mystery Science Theater 3000: The Gauntlet
The Christmas Chronicles
November 23
Frontier: Season 3
Fugitiva
Sick Note
Sick Note: Season 2
To Build or Not to Build: Season 2
November 25
My Little Pony Friendship is Magic: Best Gift Ever
November 27
Bumping Mics with Jeff Ross & Dave Attel
November 29
Pocoyo: Season 4
November 30
1983
A Christmas Prince: The Royal Wedding
Baby
Death by Magic
F is for Family: Season 3
Happy as Lazzaro
Rajma Chawal
Spy Kids: Mission Critical: Season 2
The World Is Yours
Tiempo compartido
Leaving Netflix in November:
Leaving November 1
Amelie
Crossfire
Cruel Intentions
Cruel Intentions 2
Cruel Intentions 3
Hellboy II: The Golden Army
Jurassic Park
Jurassic Park III
The Invasion
The Land Before Time
The Land Before Time II: The Great Valley Adventure
The Land Before Time III: The Time of the Great Giving
The Lazarus Effect
The Lost World: Jurassic Park
Oculus
Phenomenon
The Reader
Run to me
Smokin' Aces 2: Assassins' Ball
Steel Magnolias
Up in the Air
November 12
Anna Karenina
November 16
Paddington
November 17
Undercover Boss: Seasons 1-5