Netflix Australia: What's New in November 2018
Sean Fang
Tue, 30/10/2018 - 17:03
Some say it's too soon, some say it's not soon enough, but with November just around the corner, the countdown to Christmas has begun. We don't have a Thanksgiving holiday here in Australia, but it just feels wrong for Christmas decorations to come out before Halloween (even if don't actually celebrate Halloween as a native holiday). Too soon, people, too soon! And that includes Netflix who have decided to release half a dozen Christmas themed films this November.
Television:
Before we get to all that though, there's a whole lot of non Christmas themed new television content to wade through.
More and more often, it's new episodes of Netflix originals that we pine for every, and November includes the sixth, final and Frank Underwood-free season of 'House of Cards' (entire season available 2/11/2018). The one I'm personally looking forward to is 'Narcos: Mexico' (16/11/2018), the new season moves from Columbia, the setting of the first two seasons, to Mexico and focuses on a new phase of the war on drugs.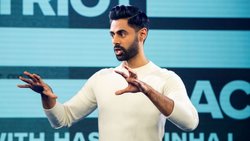 The Daily Show has been the launching pad of many present (and future) stars of comedy, and it seems Hasan Minhaj is the latest to graduate and now with his own Netflix show, 'Patriot Act with Hasan Minhaj'. Think of it as The Daily Show with a TED Talk format, and plenty of comedy thrown in. For a dose of current Daily Show goodness, host Trevor Noah has his own Netflix stand-up special in 'Son of Patricia'.
Moving away from Netflix Original territory, highlights include 'Vikings: Season 5' (30/11/2018) and the comedy special 'Donald Glover: Weirdo' (19/11/2018), not quite enough to make up for the cancelled Childish Gambino concerts, but some Donald Glover goodness from before he was super famous (he was just normal famous then).
The U.S version of 'Shameless' returns for season 8 (6/11/2018), and time again to check back on the dysfunctional Gallagher clan and see what mayhem Frank is up to again.
Movies, Documentaries:
We are super spoiled as Netflix subscribers here in Australia, since we seem to be getting more and more movies that the other regions do not, as opposed to the other way around.
All the regions do get these two original film productions though. 'Outlaw King' (9/11/2018) tells the story of Robert the Bruce and his fight for Scottish independence, and stars Hollywood mega-star Chris Pine. Netflix, like all good networks, is also getting into the Christmas movie game with 'The Christmas Chronicles' (22/11/2018). It stars Kurt Russell as Santa, so you should watch it for no other reason than to see what Snake Plissken is like as the beloved Father Christmas.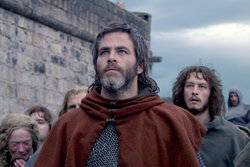 If you're after relatively recent Hollywood blockbusters, then you're in for a treat with the likes of 'Assassin's Creed' (4/11/2018), 'Fifty Shades Darker' (24/11/2018) and 'Jack Reacher: Never Go Back' (22/11/2018) being added in November.
M. Night Shyamalan returns to form in the horror thriller 'Split' (10/11/2018) with a very on-form James McAvoy (he had to be though, what with portraying 23 characters and all).
There is also the award favourite 'Manchester by the Sea' (17/11/2018). The vagaries of licensing means it's a bit odd to see a movie produced by Amazon getting a screening on rival Netflix's platform - something that would never happen in the States.
Here's something for those that love war documentaries, 'Medal of Honor' (9/11/2018) is a hybrid documentary/live-action series that recreates the true stories behind the many Medal of Honor recipients and their story of heroism.
And of course, there's always room for some classics, and this month it includes the animated musical hit 'An American Tail' (9/11/2018) and 'Police Academy 7: Mission to Moscow' (8/11/2018). Yes, the 7th Police Academy movie is an atrocity, but it did put an end to the tiring franchise and so, in that regards, it did do something positive.
------
So once again, plenty of great content to look forward to in November. Thanks Netflix!
November Schedule:
Here's a list of everything that's coming to Netflix in November. Content highlighted above shown in bold below.
ORIGINAL SERIES
House of Cards: Season 6 (2/11/2018)
Super Drags (9/11/2018)
The Sinner: Season 2 (9/11/2018)
Westside (9/11/2018)
Warrior (13/11/2018)
Narcos: Mexico (16/11/2018)
The Kominsky Method (16/11/2018)
The Last Kingdom: Season 3 (19/11/2018)
The Final Table (20/11/2018)
Greenleaf: Season 3 (22/11/2018)
Mystery Science Theater 3000: The Gauntlet (22/11/2018)
Fugitiva (23/11/2018)
Frontier: Season 3 (23/11/2018)
Sick Note (23/11/2018)
Sick Note: Season 2 (23/11/2018)
Death by Magic (30/11/2018)
1983 (30/11/2018)
Baby (30/11/2018)
F is for Family: Season 3 (30/11/2018)
Nicky Jam: El Ganador (30/11/2018)
NETFLIX WEEKLY SERIES
The Judgement (1/11/2018)
The Good Place: Season 3 (2/11/18)
Dynasty: Season 2 (3/11/18)
A Taiwanese Tale of Two Cities (3/11/2018)
Patriot Act with Hasan Minhaj (continuing weekly on Sundays)
Oh My Ghost (5/11/18)
Black Lightning: Season 2 (6/11/18)
Riverdale: Season 3 (8/11/18)
NETFLIX FILM
The Holiday Calendar (2/11/2018)
The Other Side of the Wind (2/11/2018)
Outlaw King (9/11/2018)
May The Devil Take You (15/11/2018)
The Crew (15/11/2018)
Cam (16/11/2018)
The Princess Switch (16/11/2018)
The Ballad of Buster Scruggs (16/11/2018)
Sabrina (20/11/2018)
The Tribe (21/11/2018)
The Christmas Chronicles (22/11/2018)
A Christmas Prince: The Royal Wedding (30/11/2018)
Tiempo compartido (30/11/2018)
The World Is Yours (30/11/2018)
Rajma Chawal (30/11/2018)
ORIGINAL COMEDY
John Leguizamo's Latin History for Morons (5/11/2018)
Loudon Wainwright III: Surviving Twin (13/11/2018)
Trevor Noah: Son of Patricia (20/11/2018)
Bumping Mics with Jeff Ross & Dave Attel (27/11/2018)
ORIGINAL DOCUMENTARY
Follow This: Part 3 (1/11/2018)
ReMastered: Tricky Dick & The Man in Black (2/11/18)
They'll Love Me When I'm Dead (2/11/2018)
Medal of Honor (9/11/2018)
NETFLIX KIDS AND FAMILY
Angela's Christmas (1/11/2018)
Brainchild (2/11/2018)
Trolls: The Beat Goes On!: Season 4 (2/11/2018)
Spirit Riding Free: Season 7 (9/11/2018)
Treehouse Detectives: Season 2 (9/11/2018)
Ponysitters Club: Season 2 (16/11/2018)
She-Ra and the Princesses of Power (16/11/2018)
Prince of Peoria (16/11/2018)
Kulipari: Dream Walker (20/11/2018)
Motown Magic (20/11/2018)
Spy Kids: Mission Critical: Season 2 (30/11/2018)
HIGHLIGHTS
Assassin's Creed (4/11/2018)
Shameless (U.S.): Season 8 (6/11/2018)
Police Academy 7: Mission to Moscow (8/11/2018)
E.T. the Extra-Terrestrial (9/11/2018)
The Perfect Man (9/11/2018)
Ali G Indahouse (9/11/2018)
The Five-Year Engagement (9/11/2018)
Nitro Circus: The Movie (9/11/2018)
State of Play (9/11/2018)
An American Tail (9/11/2018)
Waterworld (9/11/2018)
Split (10/11/2018)
Crazy, Stupid, Love (15/11/2018)
Cargo (16/11/2018)
17 Again (17/11/2018)
Manchester by the Sea (17/11/2018)
Donald Glover: Weirdo (19/11/2018)
Horrible Bosses (22/11/2018)
Blazing Saddles (22/11/2018)
Jack Reacher: Never Go Back (22/11/2018)
Fifty Shades Darker (24/11/2018)
Good People (25/11/2018)
The Polar Express (29/11/2018)
The Great Wall (30/11/2018)
Vikings: Season 5 (30/11/2018)