Hulu: What's New in October 2018
Sean Fang
Tue, 02/10/2018 - 18:46
I said last month was busy at Hulu, it's even more hectic this month as there are even more series premiers coming from all the big networks, with some favourites returning, and some new shows trying to make it. And of course, being October and what it means to the "I love to be scared" community (of which I'm not a member of), there are some Halloween appropriate content coming too.
To watch Hulu here in Australia, you'll need a geo-unblocking service, which also allows you to access all the latest TV shows and movies on Hulu. There are many geo-unblocking services, but with increased scrutiny, we can only recommend one particular service, and you can read about it all here. The same subscription also allows you to sign up to and watch US Netflix, and dozens of other streaming services from around the world.
Television:
Some of your favourite shows, and certainly some of my favourites, are returning in October. The Fox triple animation threat that is 'Bob's Burgers: Season 9', 'Family Guy: Season 17' and 'The Simpsons: Season 30' (30!) are all returning October 1.
Other returning shows include 'Will & Grace: Season 10' (October 5 premiere), and Constance Wu is back after her big screen success in 'Crazy Rich Asians' as the no-nonsense Jessica Huang in 'Fresh Off The Boat' (season 5 premiere on October 6).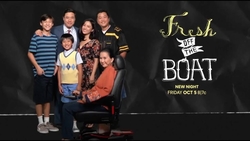 It's not all about returning shows though, October 15 sees the series premier of 'The Alec Baldwin Show', where the tireless TV and movie star, fresh off of his award winning portrayal of Donald Trump on SNL, now has his very own talk show. His very first guests are Jerry Seinfeld and Kate McKinnon.
Also Trump related is the series premier of 'The Conners' on October 17. It's basically the rebooted 'Roseanne' show without its title character after her controversial tweets and subsequent firing. Will be interesting to see how this one will be received by viewers, who for the most part, loved the 'Roseanne' reboot even if they did not love its star.
And after the success of 'The Handmaid's Tale' and 'Castle Rock', you'll be foolish to dismiss Hulu's latest original effort, 'Into The Dark'. A horror anthology series (think 'Black Mirror', but more horror than sci-fi), each monthly episode is inspired by a holiday from the month in which it is released. The first episode 'The Body' premiers October 5 and is obviously inspired by Halloween (Columbus Day would have been a silly choice otherwise), with the next episode, 'Flesh & Blood', being Thanksgiving inspired. Interesting concept and hopefully an interesting show too.
Movies, Documentaries:
Movie additions in October have a distinct Halloween flavour as well, but before we get to them, there's also a critically acclaimed documentary being released in October.
'RBG', premiering October 3, isn't a misspelled title for a documentary about the colour model, but about Justice Ruth Bader Ginsburg, a current sitting member of the US Supreme Court. The documentary, which gives us an intimate look into the life and career of this extraordinary woman, has already received rave reviews and it might be worth checking out, especially given the current political climate and the controversy over the next potential Supreme Court justice pick.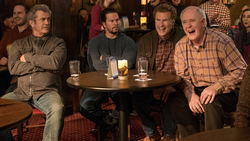 If you're after A-list blockbuster releases, October doesn't bring too many options, but the comedy 'Daddy's Home 2' might fall into this category. Stream it from October 25.
For now, Hulu is more about classic movie releases, and the Halloween inspired additions includes 'American Psycho', 'The Blair Witch Project', the 'Rec' Quadrilogy, all premiering on October 1, and the superb 'The Nightmare before Christmas' premiering on October 2.
Non Halloween picks include the 'homagedy' (new word coined!) 'Galaxy Quest', the brilliantly dream-like 'Mulholland Drive', the iconic Vietnam War movie 'Platoon', the Robocop trilogy (consisting of one brilliant movie, one very average one, and one bad one), and the often misunderstood but especially prescient 'Starship Troopers'.
Leaving Hulu:
As usual, there are some really good movies leaving Hulu in October (at the end of October, to be precise). Movies like 'Patriot Games', 'The Brady Bunch Movie', 'There Will Be Blood', 'Sixteen Candles' and 'Pretty in Pink'.
------
So that's quite a lot of fantastic content to look forward to in October, makes you feel like there's definitely not enough hours in a day, doesn't it?
October Schedule:
Here's a list of everything that's coming to Hulu in October. Content highlighted above shown in bold below.
Available October 1
60 Days In: Complete Season 4 (A&E)
America's Book of Secrets: Complete Seasons 1 & 2 (History)
American Pickers: Complete Season 18 (History)
Ancient Aliens: Complete Season 4 (History)
Bob's Burgers: Season 9 Premiere (FOX)
El Clon: Complete Season 1 (Telemundo)
Escaping Polygamy: Complete Season 3 (Lifetime)
Family Guy: Season 17 Premiere (FOX)
Hoarders: Complete Season 9 (A&E)
Hunting Hitler: Complete Season 3 (History)
Intervention: Complete Season 20 (A&E)
Kingpin: Complete Season 1 (History)
Little Women: Atlanta: Complete Season 4 (Lifetime)
Little Women: LA: Complete Season 6 (Lifetime)
Married at First Sight: Complete Season 5 (Lifetime)
Nightwatch: Complete Season 3 (A&E)
The Simpsons: Season 30 Premiere (FOX)
Storage Wars: Complete Season 11 (A&E)
The Curse of Oak Island: Complete Season 5 (History)
Undercover High: Complete Season 1 (A&E)
Ace Ventura: Pet Detective (1994)
Ace Ventura: When Nature Calls (1995)
American Psycho (2000)
American Psycho 2 (2002)
An Eye for an Eye (1966)
Anaconda (1997)
Anacondas: The Hunt for the Blood Orchid (2004)
The Armstrong Lie (2013)
The Arrival (1996)
Barbie Presents: Thumbelina (2009)
Beacon Point (2017)
Bees Make Honey (2017)
Bitter Moon (1992)
The Blair Witch Project (1999)
The Blair Witch Project: Book of Shadows (2000)
Blue Steel (1989)
Bulletproof Monk (2003)
Call Me (1988)
Capture (2017)
Charlotte (2017)
Child's Play (1988)
Children of the Corn II: The Final Sacrifice (1992)
Cinderella Man (2005)
Closer (2004)
Cocaine Godmother (2017)
Comic Book Villains (2002)
Daddy Day Care (2003)
Dark Blue (2003)
Deadly Blessing (1981)
Death Wish 2 (1982)
Double, Double, Toil and Trouble (1993)
Election (1999)
Evangeline (2015)
Extreme Justice (1993)
Flyboys (2006)
Frank and Jesse (1994)
Frank & Johnny (1991)
Frida (2002)
Galaxy Quest (1999)
The Glass Shield (1994)
Gods and Monsters (1998)
Gordy (1995)
Guess Who's Coming to Dinner (1967)
Heist (2015)
Hot Tub Time Machine (2010)
The House of Spirits (1993)
How to Get Girls (2017)
Insomnia (2002)
Jayne Mansfield's Car (2012)
Jim Norton: Please Be Offended (2012)
Joe the King (1999)
Kicking & Screaming (2005)
Kicking and Screaming (1995)
The Long Riders (1980)
More than a Game (2009)
Mulholland Drive (2001)
Music and Lyrics (2007)
The Music Never Stopped (2011)
The Night We Never Met (1993)
No Vacancy (1998)
Once Bitten (1985)
The Others (2001)
Pawn Shop Chronicles (2013)
The Peacemaker (1997)
Pieces of April (2003)
Platoon (1986)
Prancer (1989)
The Presidio (1988)
The Prophecy (1995)
Raging Bull (1980)
Reasonable Doubt (2014)
Rec (2009)
Rec 2 (2010)
Rec 3 (2012)
Rec 4 (2015)
Robocop (1987)
Robocop 2 (1990)
Robocop 3 (1993)
Rust and Bone (2012)
Scary Movie (2000)
The Second Arrival (1998)
The Simone Biles Story (2018)
Six Weeks (1982)
The Son of No one (2011)
Split Image (1982)
Stage Beauty (2004)
Stand Up Guys (2012)
Starship Troopers (1997)
The Tailor of Panama (2001)
Texas Chainsaw Massacre II (1986)
Trees Lounge (1996)
Valley of the Dolls (1967)
The Way of the Gun (2000)
Wes Craven Presents: They (2002)
Wild Bill (1995)
Zombies of Mass Destruction (2010)
October 2
The Nightmare before Christmas (1993)
October 3
Dheepan (2016)
Ma Ma (2015)
RBG (2018)
The Eye (2007)
October 4
Cardcaptor Sakura: Clear Card (Dubbed): Complete Season 1 (Crunchyroll)
The Real Housewives of New Jersey: Complete Season 8 (Bravo)
The Gospel According to Andre (2018)
October 5
Into The Dark: THE BODY: Series Premiere (Hulu Original)
La Diosa Coronada: Complete Season 1 (Telemundo)
The Real Housewives of Atlanta: Complete Season 10 (Bravo)
Station 19: Season 2 Premiere (ABC)
Superstore: Season 4 Premiere (NBC)
Will & Grace: Season 10 Premiere (NBC)
October 6
Child Support: Season 2 Premiere (ABC)
Dot.: Complete Season 2A (Universal Kids)
Fresh Off The Boat: Season 5 Premiere (ABC)
Speechless: Season 3 Premiere (ABC)
Lowlife (2018)
Pyewacket (2018)
October 8
Alguien Te Mira: Complete Season 1 (Telemundo)
Shark Tank: Season 10 Premiere (ABC)
October 10
Miles from Tomorrowland: Complete Season 3 (Disney Jr.)
What We Become (2016)
October 11
The Quest of Alaine Ducasse (2017)
October 12
Light As a Feather: Complete Season 1 Premiere (Hulu Original)
October 13
Blindspot: Season 4 Premiere (NBC)
October 14
Basilisk: The Ouka Ninja (Dubbed): Complete Season 1 (Crunchyroll)
The Miracle Season (2018)
October 15
The Alec Baldwin Show: Series Premiere (ABC)
Birthday Girl (2018)
Next Stop Wonderland (1998)
October 16
El Fantasma de Elena: Complete Season 1 (Telemundo)
October 17
Black-ish: Season 5 Premiere (ABC)
Splitting Up Together: Season 2 Premiere (ABC)
The Conners: Series Premiere (ABC)
The Kids are Alright: Series Premiere (ABC)
The Rookie: Series Premiere (ABC)
October 19
Darling in the Franxx (Dubbed): Complete Season 1 (Crunchyroll)
October 22
Results (2015)
October 24
Overlord (Dubbed): Complete Season 2 (Crunchyroll)
October 25
Daddy's Home 2 (2017)
October 26
Tadpole (2000)
October 27
Midnight, Texas: Season 2 Premiere (NBC)
October 29
Racer and the Jailbird (2018)
Leaving Hulu in October:
Leaving October 31
13 Going on 30 (2004)
28 Weeks Later (2007)
American Gigolo (1980)
Any Given Sunday (1999)
Avenging Force (1986)
Babe (1995)
Barfly (1987)
Black Rain (1989)
Body Count (1997)
Boomerang (1992)
Bull Durham (1988)
Cold War (2012)
Curse of the Starving Class (1994)
Dead Hands Dig Deep (2016)
Deuce Bigalow: Male Gigolo (1999)
Double Whammy (2002)
Eight Men Out (1988)
Elizabethtown (2005)
Fled (1996)
Godzilla (1998)
Hidalgo (2004)
High Noon (1952)
How to Build a Machine (2016)
In & Out (1997)
Invaders from Mars (1986)
Jackie Brown (1997)
Journey to Space (2015)
Kazaam (1996)
Murphy's Law (1986)
New in Town (2009)
No Way Out (1987)
Number One with a Bullet (1987)
Original Sin (2001)
Patriot Games (1992)
Planet Hulk (2013)
Point Break (1991)
Rescue Dawn (2006)
Signs (2002)
Sixteen Candles (1984)
Stir of Echoes (1999)
Street Smart (1987)
Street Smart (1987)
The 13th Warrior (1999)
The Brady Bunch Movie (1995)
The Elephant Man (1980)
There Will Be Blood (2007)
Thor: Tales of Asgard (2011)
True Colors (1991)
Unbreakable (2000)
Universal Soldier (1992)
Up Close and Personal (1996)
Pawn (2013)
Precious Cargo (2016)
Pretty in Pink (1986)
Rabbit Hole (2011)
Rare Birds (2002)
The Rock (1996)
Salsa (1988)
Sex Drive (2008)
Six Shooters (2013)
Sleepers (1996)
Snake Eyes (1998)
Spaceballs (1987)
Superstar (1999)
The Suffering (2016)
This is Spinal Tap (1984)
Trade (2007)
Witness (1985)
Wooly Boys (2004)