Hulu: What's New in September 2018
Sean Fang
Sun, 02/09/2018 - 16:13
A busy September waits Hulu as the US TV season begins again, and as Hulu is still very much indebted to its catch-up roots, there are tons of new shows or shows starting new seasons this month.
To watch Hulu here in Australia, you'll need a geo-unblocking service, which also allows you to access all the latest TV shows and movies on Hulu. There are many geo-unblocking services, but with increased scrutiny, we can only recommend one particular service, and you can read about it all here. The same subscription also allows you to sign up to and watch US Netflix, and dozens of other streaming services from around the world.
Television:
Due to the previously mentioned reasons, there's a whole lot of things happening for TV content on Hulu in September.
But starting with the Hulu Originals, programming you can no longer just ignore due to the success of 'The Handmaid's Tale', 'The First' will have its series premiere on September 14. Starring Oscar winner Sean Penn, 'The First' is set in the near future where a team of astronauts become the first humans to visit Mars. It also stars James Ransone ('Generation Kill'), Oded Fehr ('The Mummy') and Natascha McElhone ('Californication').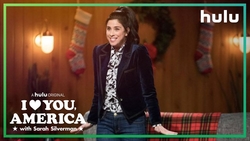 Returning for its second season on September 6 is Sarah Silverman 'I Love You, America' as the comedian continues to try and connect with "un-like-minded" Americans in the current divided political and cultural climate.
Lots of network shows are getting new episodes in September as well, but before we get to the returning shows, the new shows to look out for in September includes the Lost like mystery drama series 'Manifest', and new hospital drama 'New Amsterdam', premiering September 25 and 26 respectively.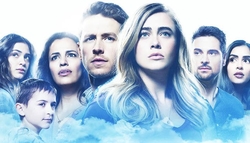 And here are the highlights of the returning shows:
September 26: Lethal Weapon: Season 3, This is Us: Season 3
September 27: Empire: Season 5, Modern Family: Season 10, South Park: Season 22
September 28: The Good Place: Season 3, Law & Order: Special Victims Unit: Season 20
So much TV goodness!
Movies, Documentaries:
Hulu's effort to beef up its movie offerings continue in September with some great classics joining the library, including 'Jerry Maguire', 'Sixteen Candles', and 'There Will Be Blood' on September 1, and 'The English Patient' on September 2.
Leaving Hulu:
As usual, some really great content are leaving Hulu in September. Luckily (and I wish more SVOD platforms do this), they're all leaving at the end of the month, so you still have some time to watch titles such as 'American Psycho', 'Field of Dreams', 'Primal Fear' and 'Witness' before they disappear (most likely just temporarily) on September 30.
------
So that's it for a busy September. If there ever was a reason to get a VPN, then getting Hulu with its access to the latest US TV shows, is a great one.
September Schedule:
Here's a list of everything that's coming to Hulu in September.
Available September 1
13 Going on 30
A Good Woman
A Murder of Crows
Adaption
The Amityville Horror
AntiHuman
Any Given Sunday
Bandits
Blow Out
Bolero
The Bone Collector
City of God
The Cleanse
Cool It
Darkness
The Dark Half
Doctor Dolittle 2
Double Impact
Dragon Blade
Dressed to Kill
Emma
Fall Time
The Female Brain
Field of Dreams
The Fly
Going Overboard
Jerry Maguire
Joyride
Kill Me Again
The Longest Yard
The Midnighters
Miracle on 34th Street (1994)
No Game, No Life: ZERO
Over the Top
The Perfect Weapon
Poltergeist II: The Other Side
Primal Fear
Pumpkinhead
Pumpkinhead II: Blood Wings
Rodger Dodger
Rushmore
Rustlers' Rhapsody
Searching for Sugar Man
Senorita Justice
Signs
Sixteen Candles
Small Town Saturday Night
Stealth Fighter
There Will Be Blood
Unbreakable
What Dreams May Come
What's Eating Gilbert Grape
September 2
The English Patient
September 3
Flower
The Miracle Season
September 4
Daphne & Velma
Monochrome
Women and Sometimes Men
September 6
I Love You, America: Season 2
Happy-Go-Lucky
September 7
Cesar Chavez
September 8
Stand Up To Cancer
From Paris with Love
Stronger
September 10
REL: Season 1
Grace Jones: Bloodlight and Bami
September 11
Bodysnatch
Natural Vice
September 12
Grace Unplugged
September 13
El Clon: Season 1
Higher Power
September 14
The First: Season 1
The Housemaid
September 15
Good Behavior: Season 2
Alien Invasion: S.U.M.1
Hardware
She's So Lovely
The Queen
The Shipping News
September 16
Moonrise Kingdom
September 18
American Horror Story: Cult: Season 7
La Impostora: Season 1
Pasion De Gavilanes: Season 1
September 20
Total Divas: Season 8
BB King: On The Road
Boom for Real
Sacrifice
This is Home: A Refugee Story
September 21
Aurora: Season 1
My Little Pony
September 22
For Colored Girls
Love after Love
September 24
911: Season 2
Gemini
Iris
September 25
Dancing with the Stars: Season 27
The Good Doctor: Season 2
Manifest: Season 1
The Resident: Season 2
The Voice: Season 15
Afterlife
UFO Chronicles: The Black Vault
September 26
Dama y Obrero: Season 1
The Gifted: Season 2
Lethal Weapon: Season 3
New Amsterdam: Season 1
This is Us: Season 3
The Krays
September 27
A Million Little Things: Season 1
American Housewife: Season 3
Chicago Fire: Season 7
Chicago Med: Season 4
Chicago P.D.: Season 6
Empire: Season 5
The Goldbergs: Season 6
Modern Family: Season 10
Single Parents: Season 1
South Park: Season 22
Star: Season 3
September 28
Dateline: Season 28
Grey's Anatomy: Season 15
Hell's Kitchen: Season 18
How to Get Away With Murder: Season 5
Law & Order: Special Victims Unit: Season 20
Last Man Standing: Season 7
Suburbicon
The Cool Kids: Season 1
The Good Place: Season 3
September 29
Jigsaw
September 30
Nicky Ricky Dicky & Dawn: Complete season 4
Leaving Hulu in September:
Leaving September 30
The Adventures of Panda Warrior (2012)
American Psycho (2000)
American Psycho 2 (2002)
And God Created Women (1988)
Angel Heart (1987)
Arlo: The Burping Pig (2016)
Babel (2006)
Back to School (1986)
Beautiful Boy (2010)
Beyond Borders (2003)
Bill & Ted's Excellent Adventure (1989)
Billy Madison (1995)
Bloodsport (1988)
Bound (1996)
The Brothers Bloom (2009)
Cadillac Man (1990)
Chasing Amy (1997)
Clear and Present Danger (1994)
Cyborg (1989)
Delta Force (1986)
Disaster Movie (2008)
The Disembodied (2011)
Double Jeopardy (1999)
Dr. T and the Women (2000)
Drugstore Cowboy (1989)
Elephant Kingdom (2016)
Everybody's Fine (2009)
Evolution (2001)
Extract (2009)
Field of Dreams (1989)
Get Real (1999)
Halloween H20: 20 Years Later (1998)
Hello, My Name is Doris (2016)
Hoosiers (1986)
House Arrest (1996)
In a World… (2013)
Incident at Loch Ness (2004)
It Takes Two (1995)
The Indian in the Cupboard (1995)
Jay & Silent Bob Strike Back (2001)
Jeepers Creepers (2001)
Judge Dredd (1995)
Just Before I Go (2014)
Kalifornia (1993)
Ladybugs (1992)
The Ladies Man (2000)
Last Castle (2001)
The Legend of Bagger Vance (2000)
Masters of the Universe (1987)
Maximum Overdrive (1986)
Miami Blues (1990)
Mimic (1997)
Next (2007)
Pawn (2013)
Precious Cargo (2016)
Pretty in Pink (1986)
Rabbit Hole (2011)
Rare Birds (2002)
The Rock (1996)
Salsa (1988)
Sex Drive (2008)
Six Shooters (2013)
Sleepers (1996)
Snake Eyes (1998)
Spaceballs (1987)
Superstar (1999)
The Suffering (2016)
This is Spinal Tap (1984)
Trade (2007)
Witness (1985)
Wooly Boys (2004)