Foxtel Making Waves in Streaming Market
Nick Harris
Tue, 26/05/2015 - 14:45
Foxtel and the Seven Network formalised their joint venture in Presto Entertainment last week after the Australian Competition and Consumer Commission (ACCC) announced in March they would not stand in the way. Seven acquired shares in Presto Entertainment with the intent of installing a new management team to bring the service out of the dark and into the homes of Australian audiences. A survey released last week revealed Presto has the weakest brand awareness in the country of the major streaming services.
Viewers will not notice any immediate product change, with Presto TV and Presto Movies still $9.99 a month each or Presto Entertainment (TV + Movies) at $14.99 a month. The press release boasts that Presto currently offers more than 5000 hours of entertainment, with 879 movies and 254 TV shows with a total of 4443 episodes. Interim CEO Shaun James stated the merger places Presto in the position to "dramatically ramp up our plans to be a major player in Australia's SVOD (subscription video on demand) sector." In a bid to increase viewership the company announced their first exclusive series 'Aquarius' starring former X-Files star and all-round heartthrob David Duchovny. The press release advised to expect more exclusive content announcements in the coming weeks.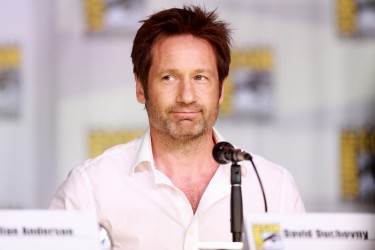 Can David Duchovny, the handsome star of The X-Files and the Presto exclusive 'Aquarius' help to kickstart the Foxtel and Seven backed streaming service?
Photo credit: Gage Skidmore, CC BY-SA 2.0
Foxtel is making other moves within the sector with an in-principle agreement to resell the Presto product range to Quickflix and introducing a no-contract option on the traditional Foxtel product. Quickflix is an Australian streaming service founded in Perth in 2003 and now headquartered in Sydney. Their service offers both streaming and Blueray/DVD delivery products but despite having an industry presence for 12 years, they hold a market share of only about 130,000 (source). Compare that to Netflix who were estimated to hold a share of around 250,000 before the Australian product was even released.
The Foxtel zero month contract option is being offered on all plan types but will require a $150 setup and equipment fee to get started. Compare this with streaming options that work on existing media players and consoles at no extra cost. Previously Foxtel services previously required a 12-month minimum agreement but with no contract now on offer, customers who are open to signing for one or two years may have leverage to waive setup fees or reduce monthly cost.
------
Nick Harris is a contributor for Streambly. You can follow Nick on Twitter.
Interested in becoming a contributor for Streambly? streambly.com.au is looking streaming enthusiasts interested in writing some articles for us on a regular basis. Get paid and get free access to Stan, Presto or Netflix on us, to write about what you love. No experience necessary. If you're interested, please contact us at editor @ streambly.com.au (remove spaces from email address).