Australians Spoilt for Choice in Streaming, Even before Netflix Arrives
Sean Fang
Fri, 30/01/2015 - 22:01
From having almost no options, to having almost too many - that's what the streaming video-on-demand (SVOD) market has become this week with the launch of the Foxtel/Seven backed Presto, and the Nine/Fairfax backed Stan. Both unlimited "all-you-can-stream" services are now available to Australians, months before the International behemoth Netflix comes to our shores in an attempt to gain a precious foothold into lucrative SVOD business.
Netflix's arrival down under has been the open secret that almost everyone in the industry has known and have been expecting. With many Australians already accessing Netflix via geo-unblocking services, this has led to the unique situation where local media companies have been able to plan and anticipate Netflix's next move here, and launch their own competing products earlier in an attempt to slow down Netflix's initial momentum. So from being a market that was virtually untapped, Australia has suddenly become one of the most competitive SVOD market places of any place around the world.
Competition is good for the consumer, and for Aussie households, the options have never been better - but only if they're able to differentiate between what each of the services offer, and choose the one (or the ones) that's right for them.

The Foxtel backed Presto, at the moment, seems to have the best TV offerings. With plenty of HBO programming available thanks to Foxtel's licensing deals, those that want to watch The Wire, Boardwalk Empire or The Newsroom (albeit only the earlier seasons for the newer HBO series), then Presto is the only choice at the moment. The premium drama comes at a cost - the industry standard $10 per month rate only buys you TV or movies, not both, with Presto. To get both, you'll have to stump up nearly $15 per month, which is higher than what you pay for Stan or what you're expected to pay for Netflix. Presto's movie offerings, like its TV shows, does also seem to offer a bit more than what Stan currently offers, or what Netflix will offer when it is launched in March.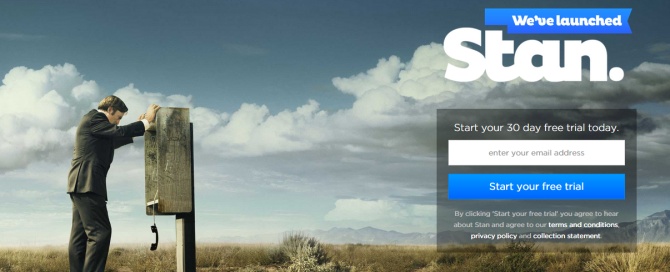 There also isn't very much in the way of new TV episodes on Presto, which is how Stan has chosen to set itself apart. With the eagerly anticipated Breaking Bad prequel Better Call Saul finding an exclusive home on Stan, and with the Golden Globe winning Transparent currently streaming, Stan is ready to make up for the lack of HBO programming in its library. The $10 per month pricing, which includes both TV shows and movies , is also more comparable with Netflix's pricing model. If anything, Stan's content library is very similar to that of Netflix (US and Canada), with a bit of Amazon Prime Instant Streaming thrown in (Transparent is an Amazon original series), and perhaps looks to be Netflix's closest rival in terms of content and pricing.
As for Netflix, very little is known about what the streaming giant will be able to offer Australian subscribers at the moment, with local licensing deals likely to exclude many of the same shows and movies North American Netflix subscribers take for granted. What we do know is that Netflix will be able to offer its strong line-up up of original programming, including full seasons of House of Cards, Orange is the New Black, and many other new original, and exclusive, TV shows (and even movies, like the sequel to Crouching Tiger, Hidden Dragon). It will most likely also be supported by more devices, with not only Android, iOS and Chromecast support that Stan and Presto (Stan also offers Apple TV AirPlay support) currently offers, but also on game consoles such as the PS4 and via smart TV apps, if the US situation is to be repeated here.
So Netflix may still be the service to beat, when it does get launched in a few month's time.
For now, streaming enthusiasts will have to do a bit of research to see which service is for them. Luckily, this is easy and cost efficient to do, with Stan offering a free 30 day trial, and with Presto's library being searchable directly from its official website.