Spotify: Spotify on PS3 Guide
Update: Spotify has now released an official app for the PS3, which means you no longer need to use the instructions on this page to get Spotify going on the PS3 (unless you want to control your PS3 Spotify listening on your PC).
Here's a handy trick that allows you to stream what's playing on your PC version of Spotify to your PS3 (and other DLNA playback devices, like the Xbox 360 or your Smart TV). You will need to still set what to play on your PC (and playback control is only possible via the computer), but once set, you'll be able to listen to whatever is being played via Spotify on your PS3. This is done by using the PS3 Media Server software, which allows you to listen to your Spotify output as a radio stream on the PS3. And you only need the free Spotify account to do so, and it's all done using free software to boot!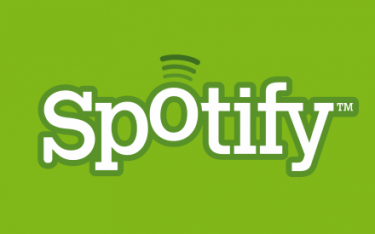 Hardware Requirements:
A Window PC with Spotify installed
A PS3
A home network connecting your PC to your PS3
Software Requirements:
PS3 Media Server (free)
DSBridge+Lame (free)
Step 1: Installation
Ensure Spotify is installed and working on your PC. You only need the free Spotify account for this method to work. Next, install PS3 Media Server. Installation is pretty standard, and for the purpose of this guide, you don't need to change any of the PS3 Media Server settings. To make sure your PS3 can connect to PS3 Media Server properly, ensure PS3 Media Server is started, and then switch on your PS3. You should see PS3 Media Server listed as one of the Media Servers on the PS3, and starting PS3 Media Server should also show your PS3 as being connected under the "Status" tab (see screenshot below).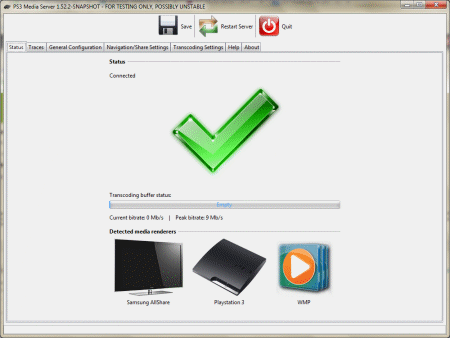 Next, we need to install the DSBridge software. First, open up your Spotify AppData directory on your PC by clicking on the Windows Start button, and then entering "%APPDATA%\Spotify" (without the quotes) into the "Search programs and files" input box. Or simply navigate to C:\Users\<UserName>\AppData\Roaming\Spotify - replace with the username of your Windows account (my one was simply named "Sean", so I went to "C:\Users\Sean\AppData\Roaming\Spotify" - see screenshot below). Download the specially packaged DSBridge+Lame ZIP package and extract three files found in the "extract" directory (dsbridge.ini, dsound.dll and lame_enc.dll) to the AppData directory, and it should end up looking something like in the screenshot below.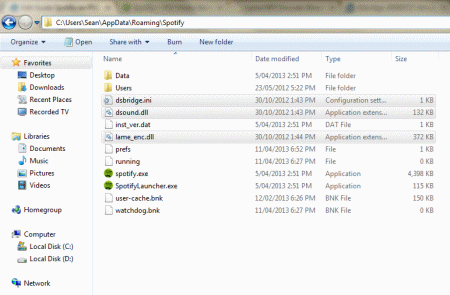 Step 2: Configuration
Doing the above should allow Spotify to connect to PS3 Media Server, but we now need to edit the PS3 Media Server web config file to add the Spotify output as a "web radio" stream. Open up your Spotify ProgramData directory on your PC by clicking on the Windows Start button, and then entering "%PROGRAMDATA%\Spotify" (without the quotes) into the "Search programs and files" input box (for Windows XP, to go "%APPDATA%\Spotify" instead). Or simply navigate to C:\ProgramData\PMS. Here, open up web.conf with your favourite text editor. Find the "# audio streams" section, and under it, add the following line:
audiostream.Web,Radio=Spotify,http://localhost:8124,http://www.spotify.com/wp-content/themes/spotify/i...
Note that if you don't have web.conf, a copy of it was included in the DSBridge+Lame ZIP file you downloaded in the previous step, with the above line already added. Otherwise, edit and save the file (note that you may need Administrator permission to edit and save web.conf). Your web.conf file should end up looking like this: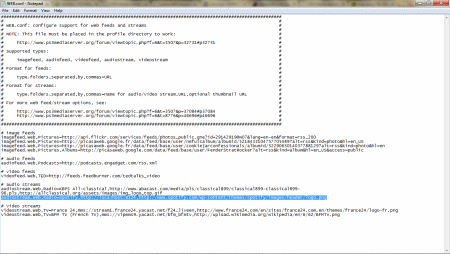 Step 3: Testing
We'll first test to see if DSBridge is set up properly. Restart Spotify and play something, anything. Check the Windows task tray area, and you should see a blue (or green) orb icon - this is the DSBridge software running in the background. If you don't see the icon, or if the icon is red, then go back and ensure the DSBridge files are all in the right locations, and then check out the troubleshooting section below for additional instructions on how to potentially fix this problem.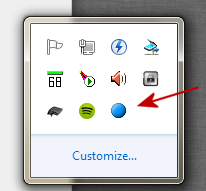 Next, restart (or start) PS3 Media Server, and then turn on your PS3. Then in Spotify, select your track, playlist or radio. Now go to your PS3, navigate to the Audio section, find and click on the "PS3 Media Server" icon, go to the "Web" folder, then the "Radio" folder, the "Spotify" link should be there, click on it and in a few seconds your Spotify stream should start playing. Note that you may no longer be able to hear anything in Spotify on your PC, this is normal.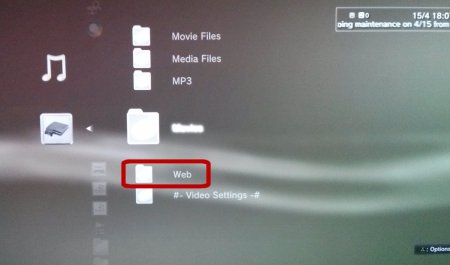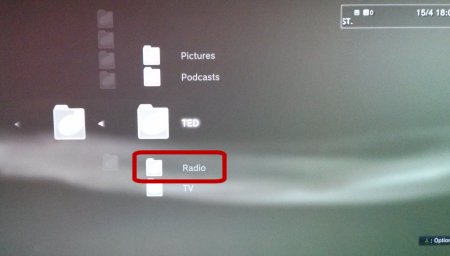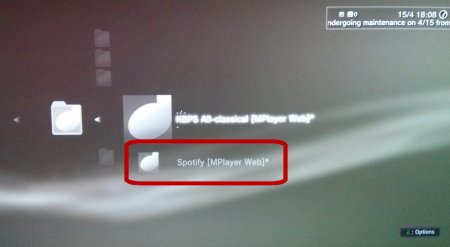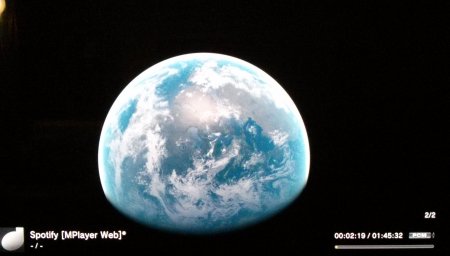 And that's it! Thanks for reading. There are some further troubleshooting steps below, if you run into any problems.
Troubleshooting
The most common problem has to do with the DSBridge files not being in the right locations, so first, double check and make sure the files are there.
If the DSBridge still doesn't show up, or is not blue or green in colour, then you'll need to copy the dsbridge.ini and dsound.dll files to the folder 'C:\Windows\System32\Macromed\Flash\' (or if you're using the 64-bit version of Windows/Flash, to 'C:\Windows\SysWOW64\Macromed\Flash\').
During our testing, we ran into a problem where the Spotify stream on the PS3 would be identified as "unsupported format", as would all web radio stations. This is actually a problem more to do with PS3 Media Server than Spotify/DSBridge. For the issue we ran into, the problem seemed to be related to the use of VLC instead of MPlayer as the transcoding engine, although for others, it may be the other way around depending on what's installed on your computer. We solved our issue by going into the "Transcoding Settings" section of PS3 Media Server, and disabling the use of VLC for the Web Audio Streaming Engine and thus forcing MPlayer to be used (and we disabled VLC for all the other playback types too, since it was clearly not working on our system) - you can do this by selecting the engine name, and clicking on the power-plug style icon below to disable it. A restart of PS3 Media Server is then required. This one took us a while to figure out, to be honest!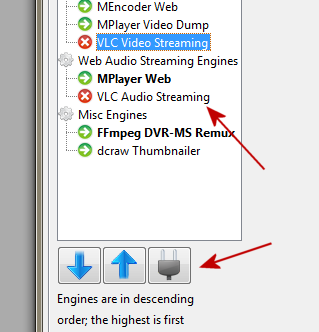 More troubleshooting tips added as they become needed ... post your issues in the forum or as a comment to this article.