Top 10 Aussie Streaming Charts: Licorice & Candy (Week Ending 31 July 2022)
Sean Fang
Wed, 03/08/2022 - 15:17
Welcome again to our weekly feature where we look at the most popular streaming movies and TV shows in Australia based on data collected by streaming search engine JustWatch. Data includes subscription streaming as well as transactional streaming titles. Click here to read last week's roundup.
Movies:
The satirical comedy Not Okay over on Disney+ is the highest ranked new entry into the top 10 this week. It ended up in third place. In fifth was Licorice Pizza, which finally finds it way onto subscription streaming via Amazon Prime Video.
Also on Amazon Prime Video for the first time is Ghostbusters: Afterlife - it's also on Binge.
"Persuasion", "The Northman", and "Morbius" left the top 10.
Click on the image below to see a larger version.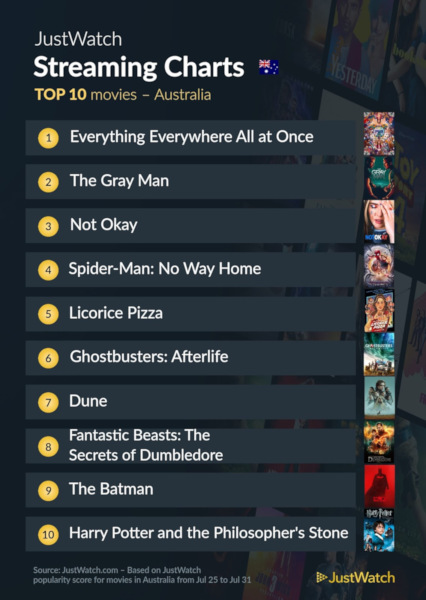 Television:
The animated series "Harley Quinn" (premium VOD) entered the top 10 in 6th.
The much talked about Paper Girls (lots of perhaps unfair comparisons to "Stranger Things") on Amazon Prime Video was 8th, while the R-rated series Candy also stirred up some conversation as it infiltrates the otherwise family friend Disney+ platform (the Hulu film "Prey" is the other one that's coming soon to Disney+).
"Ghosts", "The Secret She Keeps", and the US version of "Ghosts" all left the top 10 to make room.
Click on the image below to see a larger version.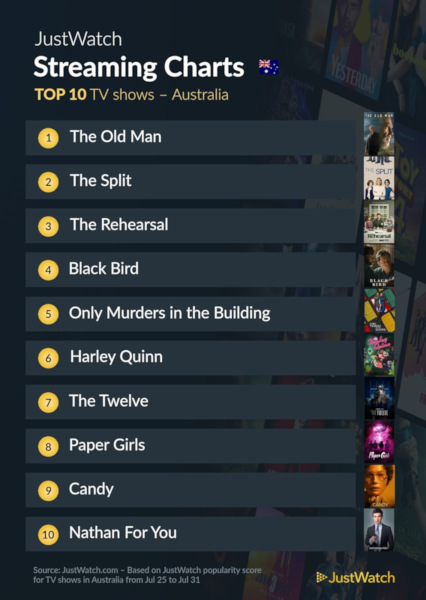 Looking for more content to watch, or looking to see where you can stream that TV or movie you want to watch? JustWatch allows you to easily search for a piece of content and find out how to stream it legally in Australia.