Top 10 Aussie Streaming Charts: TV Chart Reshuffle (Week Ending 17 July 2022)
Sean Fang
Wed, 20/07/2022 - 17:16
Welcome again to our weekly feature where we look at the most popular streaming movies and TV shows in Australia based on data collected by streaming search engine JustWatch. Data includes subscription streaming as well as transactional streaming titles. Click here to read last week's roundup.
Movies:
Very little change in terms of the movies chart for this week, with the only new entry being Netflix's Persuasion (finishing in 5th place), which pushed "Minions" out of the top 10.
Click on the image below to see a larger version.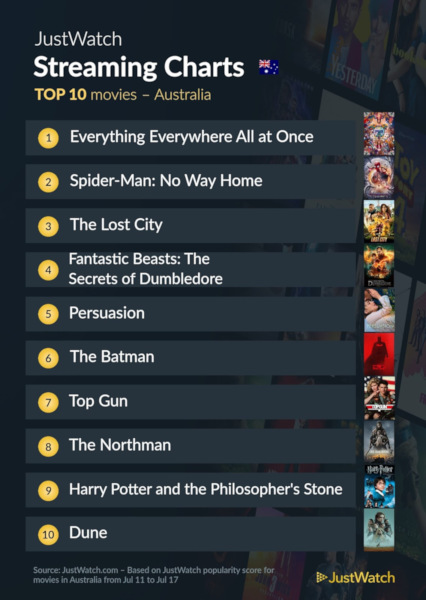 Television:
The exact opposite happened in the television charts, with only 2 titles remaining from the previous week. A combination of new shows launching, new seasons launching, and current (mid) seasons ending.
Surprisingly, The Old Man was the most streamed show for the week, beating higher profiles shows in the top 10 including "Black Bird" (Apple TV+) in 3rd and Only Murders in the Building in 4th.
"The Secret She Keeps" (Paramount+) was in 5th, with Aussie show The Twelve in 6th place. The mid-season return of Better Call Saul helped it return to the top 10 in 7th place, while the Emmy nomination success for Succession (also on Foxtel Now) let it back in the top 10 at 8th. The fourth season launch of What We Do in the Shadows (also on Foxtel Now) allowed the show to re-enter in 9th place.
Phew.
It's probably easier to just tell you the two shows that remained in the top 10 ("The Split" and "Under the Banner of Heaven"), but "The Boys", "Westworld", "The Orville", "Chicago Fire", "This Is Us", "Line of Duty", "Mystery Road" and "Barry" all left.
Click on the image below to see a larger version.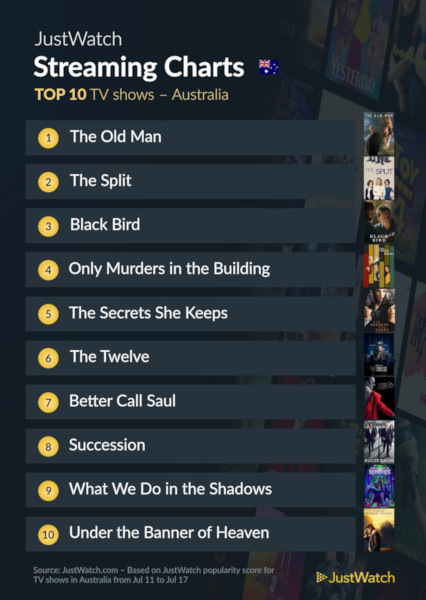 Looking for more content to watch, or looking to see where you can stream that TV or movie you want to watch? JustWatch allows you to easily search for a piece of content and find out how to stream it legally in Australia.