Top 10 Aussie Streaming Charts: Yellow Guys & Androids (Week Ending 3 July 2022)
Sean Fang
Wed, 06/07/2022 - 16:15
Welcome again to our weekly feature where we look at the most popular streaming movies and TV shows in Australia based on data collected by streaming search engine JustWatch. Data includes subscription streaming as well as transactional streaming titles. Click here to read last week's roundup.
Movies:
Minions (also on Foxtel Now) re-entered the top 10, in 8th place, thanks to the release of the sequel in cinemas. "Sing 2" (premium VOD) returns to the top 10 in 9th, while "The Bad Buys" (premium VOD) enters in 10th. So coincidentally, all three new entries in the top 10 were animated movies.
This meant that three (live-action) movies had to leave, "Doctor Strange in the Multiverse of Madness", "Jerry & Marge Go Large", and "Last Night in Soho".
Click on the image below to see a larger version.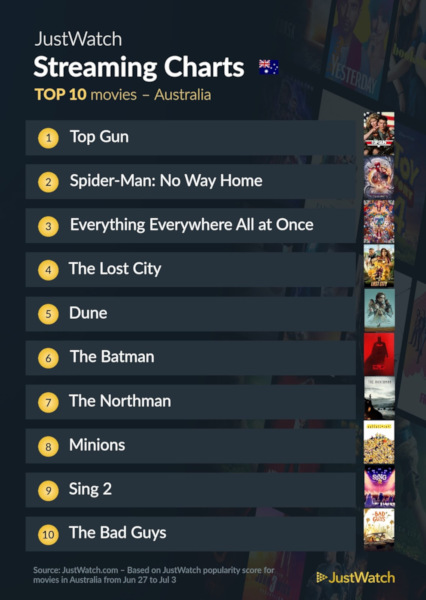 Television:
Season 2 of The Split helped the BBC drama get back into the top 10, at a high second place. The season four return of Westworld on Binge helped the show re-enter the top 10 in third place.
Amazon's The Terminal List debuts in 5th, while the final two episodes of season four dropping over the weekend helped Stranger Things get back into the top 10, at 9th.
"The Umbrella Academy", "The Time Traveller's Wife", "Barry", and "The Staircase" all left the top 10.
Click on the image below to see a larger version.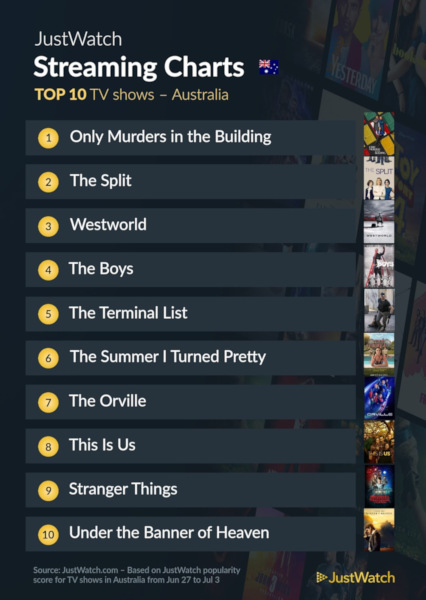 Looking for more content to watch, or looking to see where you can stream that TV or movie you want to watch? JustWatch allows you to easily search for a piece of content and find out how to stream it legally in Australia.