Top 10 Aussie Streaming Charts: Top Gun & New Trek (Week Ending 8 May 2022)
Sean Fang
Tue, 10/05/2022 - 16:16
Welcome again to our weekly feature where we look at the most popular streaming movies and TV shows in Australia based on data collected by streaming search engine JustWatch. Data includes subscription streaming as well as transactional streaming titles. Click here to read last week's roundup.
Movies:
With the long-awaited sequel coming in a couple of weeks, the original Top Gun (also on Binge, Paramount+, Foxtel Now) is getting a bit of attention, and rightly so. It came second in the top 10.
In sixth place was The Suicide Squad, dropping to Netflix for the first time and enjoying a bit of a viewing bump. The movie was originally released on Binge.
"Ghostbusters: Afterlife" and "CODA" left to make room.
Click on the image below to see a larger version.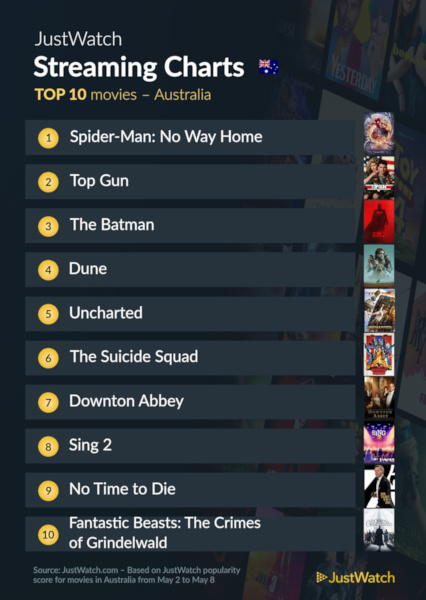 Television:
"Star Trek: Strange New Worlds" premiered on Paramount+ this past week, and the show has garnered some quite positive responses from critics and fans alike. This is probably why it was the most-streamed TV show for the week.
HBO's "The Staircase" has just been released on Binge, and it came second. The docuseries The Staircase, which the new HBO drama is based on, was also in the top 10 in 6th place.
"Shining Girls" (Apple TV+) was 9th while This Is Us (also on Disney+) returns in 10th.
Five in, five out. "Gaslit", "Barry", "Severance", "Anatomy of a Scandal", and "Our Flag Means Death" all left the top 10.
Click on the image below to see a larger version.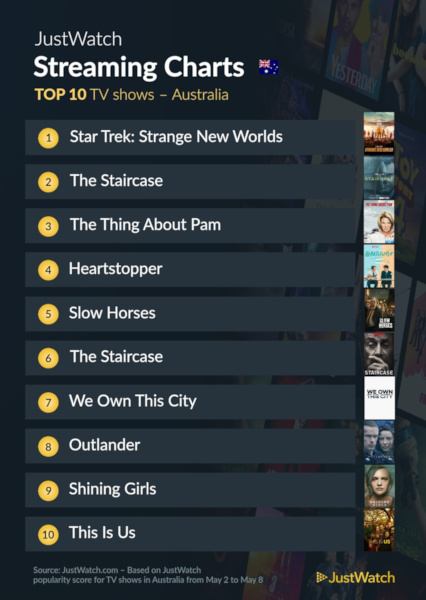 Looking for more content to watch, or looking to see where you can stream that TV or movie you want to watch? JustWatch allows you to easily search for a piece of content and find out how to stream it legally in Australia.