Top 10 Aussie Streaming Charts: The Oscars & SBS (Week Ending 27 March 2022)
Sean Fang
Wed, 30/03/2022 - 17:13
Welcome again to our weekly feature where we look at the most popular streaming movies and TV shows in Australia based on data collected by streaming search engine JustWatch. Data includes subscription streaming as well as transactional streaming titles. Click here to read last week's roundup.
Movies:
It's the week just before the Oscars and as usual, people rush to watch the nominated films, me included. I did it because I wanted to know how angry I should be at the fact that [INSERT FILM NAME HERE] won, and the snubbing of [INSERT FILM NAME HERE]. It turns out nobody gave a damn about the Best Picture winner, not after a certain incident that I'm sure you've already heard about. FYI, I thought "The Power of the Dog" or "Drive My Car" should have won, although "CODA" was a good film too (not sure "Best Picture" good though),
As such, people did flock to Apple TV+ to watch "CODA", and it was the third most-watched film on streaming for the week ending 27 March.
The only other new entry in the top 10 was "The Worst Person in the World" (available on premium VOD platforms).
"The Adam Project" and "Turning Red" left the top 10 to make room for these two.
Click on the image below to see a larger version.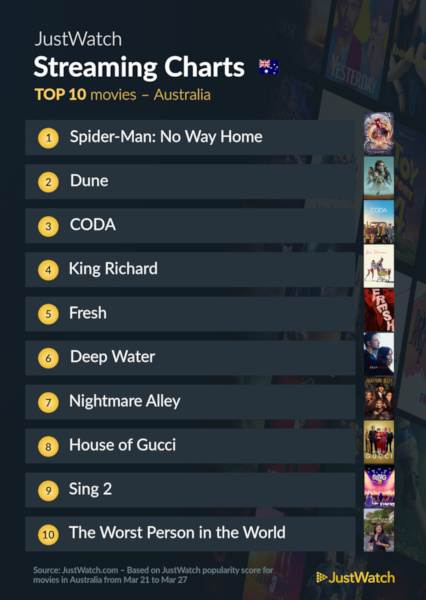 Television:
Some wholesale changes on the TV chart this week.
Video game turned big-budget TV show "Halo" debuted on Paramount+ this week and it was the most-streamed original show on all the streaming platforms.
Some great shows are returning for new seasons on SBS On Demand, and we have "The Responder" in third and "Atlanta" in 6th ("Atlanta" also available on Binge and Foxtel Now, but only the older seasons), both with new episodes on the multicultural broadcaster's streaming platform.
The new season of Bridgerton allowed the show to return to the top 10, in 4th, while "Sanditon" (Binge, Foxtel Now) was 5th.
As a result, "Outlander", "How I Met Your Father", "Killing Eve", "This Is Going to Hurt", and "Upload" all left the top 10.
Click on the image below to see a larger version.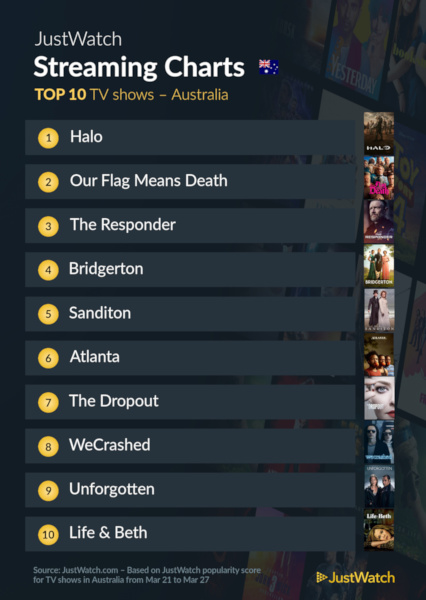 Looking for more content to watch, or looking to see where you can stream that TV or movie you want to watch? JustWatch allows you to easily search for a piece of content and find out how to stream it legally in Australia.