Binge Report U.S Streaming TV & Movie Charts: Free Movie & Star Trek (February 21 - February 27, 2022)
Sean Fang
Fri, 04/03/2022 - 20:57
Welcome to the Binge Report, where we take a look at the most popular movies and original TV shows that Americans have been streaming in the last week. For those interested in Australian numbers (provided to us by streaming search engine JustWatch), please have a look here. You can read last week's report here.
The TV Time app (iPhone and Android) helps users organise their streaming plans. The data here is tracked from American users of the app and some shows listed are not available in Australia without the use of a suitable VPN.
Movies:
Free Guy arrived on Disney+ and HBO Max, and it instantly shot to the top of the movie streaming charts (us Australians have been lucky as we've had the film on Disney+ since October).
Three other new movies were in the top 10, including Netflix's A Madea Homecoming, the Hulu Original "No Exit" and action spy film "The 355" on Peacock.
"Marry Me", "Nightmare Alley", "Fistful of Vengeance", and "I Want You Back" all left the top 10 to make room.
Click on the image below to see a larger version.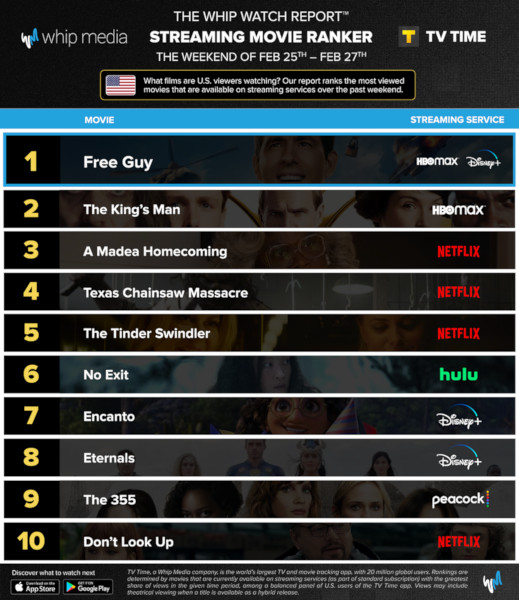 Streaming Originals:
The Marvelous Mrs. Maisel re-enters the top 10 at third, and "Star Trek: Discovery" (Paramount+) returns to the top 10 following its mid-season break.
"Love is Blind" and "Dollface" left.
Click on the image below to see a larger version.