Top 10 Aussie Streaming Charts: The New Matrix, The Old Railroads (Week Ending 30 January 2022)
Sean Fang
Wed, 02/02/2022 - 15:26
Welcome again to our weekly feature where we look at the most popular streaming movies and TV shows in Australia based on data collected by streaming search engine JustWatch. Data includes subscription streaming as well as transactional streaming titles. Click here to read last week's roundup.
Movies:
"No Time to Die" (premium VOD) made a return to the top 10 after a brief hiatus, returning in 5th place. During the week, "The Matrix Resurrections" made its debut on premium VOD platforms and the top 10, coming in at 6th. "Space Jam: A New Legacy" (premium VOD) also returned to the top 10, at 10th.
The three new entrants meant that there was no room for "Encanto", "Mortal Kombat", and "Spider-Man".
Click on the image below to see a larger version.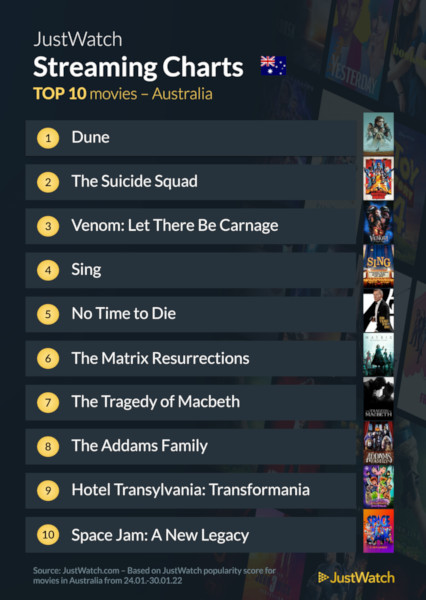 Television:
Period drama "The Gilded Age" debuted on Paramount+ and it has received some good reviews so far. It also debuts in the top 10 at 4th place. The second season of "Resident Alien" now streaming on 9Now may have given people the idea to stream the first season, currently on Stan - it ranked 5th.
This is Us returns to the top 10 in 7th, and "Stargate SG-1" makes it into the top 10 at 10th with some epic binge streaming happening this week just before Stan removed all series from its library (licensing expired).
"Wolf Like Me", "Ozark", "1883", and "Archive 81" left the top 10.
Click on the image below to see a larger version.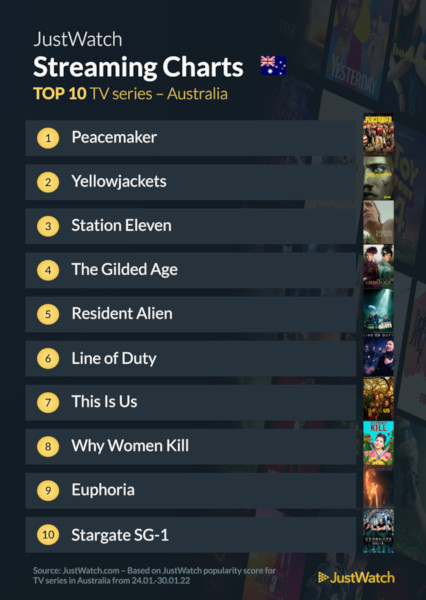 Looking for more content to watch, or looking to see where you can stream that TV or movie you want to watch? JustWatch allows you to easily search for a piece of content and find out how to stream it legally in Australia.