Top 10 Aussie Streaming Charts: Satire and Star Wars (Week Ending 9 January 2022)
Sean Fang
Wed, 12/01/2022 - 18:12
Welcome again to our weekly feature where we look at the most popular streaming movies and TV shows in Australia based on data collected by streaming search engine JustWatch. Data includes subscription streaming as well as transactional streaming titles.
Movies:
Welcome back from the break. Since we don't have last week's data due to the break, there's no "what in, what's out" for this week's charts, and so we'll just highlight some of the notable entries in the top 10. Normal service resumes next week.
Netflix's controversial satire Don't Look Up was still in the top 10, at 6th. The movie has not been a critical favourite, but fans and, interestingly, climate scientists have loved it for its take on the climate wars.
20th Century Studio's The Last Duel, now on Disney+, was also in the top 10 at 10th. The big-budget film features a ton of star power, and would never have ended on on Disney+ so soon if it wasn't for the pandemic.
Click on the image below to see a larger version.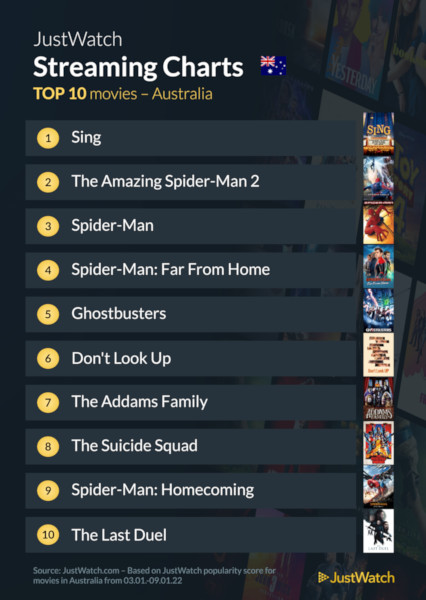 Television:
The Book of Boba Fett sits high in third place in this week's top 10 streaming TV shows. The Star Wars show hasn't quite captivated audiences like "The Mandalorian" that it spins-off from, but fans seem to love it.
Having arrived on New Year's Eve, Netflix's Stay Close seems to be getting some attention, in 4th place.
A new season of "A Discovery of Witches" (Binge/Foxtel Now) sees it in 5th place.
And finally, Paramount+'s "Yellowstone" spin-off "1883" is higher on the chart, 6th place, than its predecessor (9th), so that's good news for Paramount I suppose.
Click on the image below to see a larger version.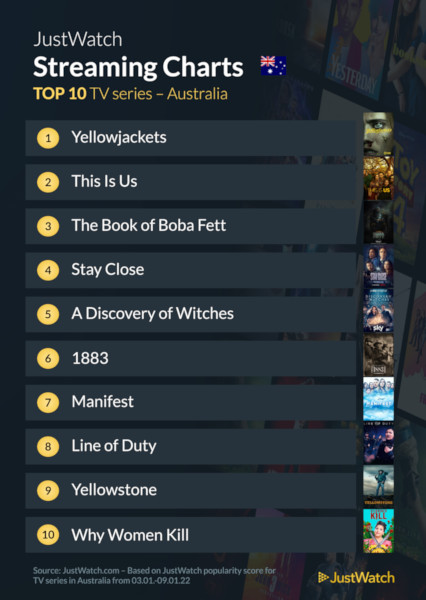 Looking for more content to watch, or looking to see where you can stream that TV or movie you want to watch? JustWatch allows you to easily search for a piece of content and find out how to stream it legally in Australia.