Binge Report U.S Streaming TV & Movie Charts: Netflix's Sandra Bullock Drama on Top (December 6 - December 12, 2021)
Sean Fang
Wed, 15/12/2021 - 16:17
Welcome to our new Binge Report format, where instead of tracking binge sessions, we are now keeping track of the most popular movies and original TV shows that Americans have been streaming in the last week. For those interested in Australian numbers (provided to us by streaming search engine JustWatch), please have a look here. You can read last week's report here.
The TV Time app (iPhone and Android) helps users organise their streaming plans. The data here is tracked from American users of the app and some shows listed are not available in Australia without the use of a suitable VPN.
Movies:
Netflix's Sandra Bullock drama The Unforgivable was the most streamed movie for the weekend of December 10-12, 2021. Critics have panned the film, but fans seem to enjoy it, so check it out for yourself.
Over on Peacock, there's a mini Spider-Man marathon of the original Sam Raimi/Tobey Maguire trilogy, occupying positions 6-8 on this week's chart. "Black Widow" from Disney+ is also back in the top 10, at 10th.
Leaving the top 10 were "Zoey's Extraordinary Christmas", "Elf", "Jungle Cruise", "A Castle for Christmas", and "The Power of the Dog".
Click on the image below to see a larger version.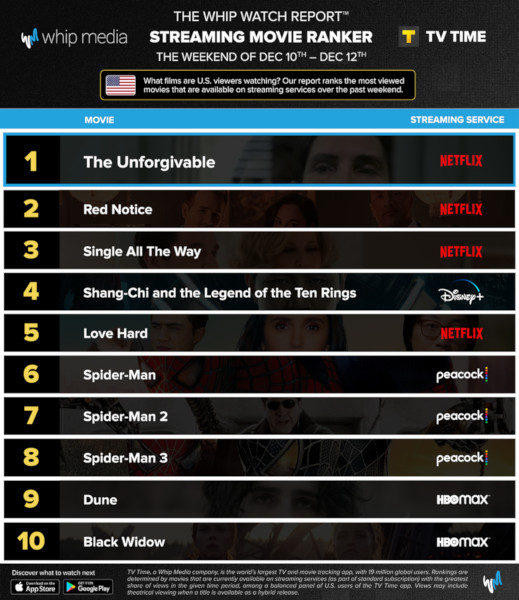 Streaming Originals:
Over with streaming original shows, the "Sex and the City" sequel series "And Just Like That..." on HBO Max got off to a good start at 7th place, followed by Hulu's "Pen15" and "SEAL Team" (Paramount+) in 10th.
"Gossip Girl", "The Great", and "Selling Sunset" went out of the top 10.
Click on the image below to see a larger version.