Binge Report U.S Streaming TV & Movie Charts: Netflix Original Films Debut Strongly (November 1 - November 7, 2021)
Sean Fang
Wed, 10/11/2021 - 17:44
Welcome to our new Binge Report format, where instead of tracking binge sessions, we are now keeping track of the most popular movies and original TV shows that Americans have been streaming in the last week. For those interested in Australian numbers (provided to us by streaming search engine JustWatch), please have a look here
The TV Time app (iPhone and Android) helps users organise their streaming plans. The data here is tracked from American users of the app and some shows listed are not available in Australia without the use of a suitable VPN.
Movies:
Two very different Netflix original films entered the top 10 at high positions this week. The Harder They Fall is a reimagined Western in which all the cast members are Black, while Love Hard is another Netflix RomCom that seems to be a winner (they're really good at them now). They were 3rd and 4th respectively.
The dystopian sci-fi "Finch" from Apple TV+ stars a dying Tom Hanks, his dog, a quite annoying robot and really really bad weather. That doesn't sound too appealing, but the movie itself is quite decent - and it came 6th.
And with Halloween over, the traditional Christmas favourites are making a return. This week, it's the Halloween/Christmas crossover The Nightmare Before Christmas in 9th.
"Paranormal Activity: Next of Kin", "Hocus Pocus", "The Many Saints of Newark", and "The Village" were the movies to leave the top 10.
Click on the image below to see a larger version.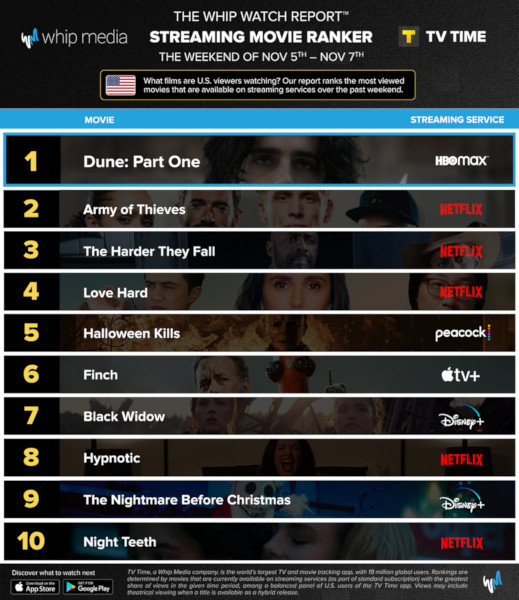 Streaming Originals:
Season 5 of Big Mouth has just been launched, and it helped the show return to the streaming original top 10, in 3rd place. The new season of "Love Life" (HBO Max) was also the reason why it was in the top 10, at 10th.
Both "Only Murders in the Building" and "Titans" had to leave the top 10 to make room.
Click on the image below to see a larger version.