Binge Report U.S Streaming TV & Movie Charts: "Dune", "Foundation" Allows Sci-Fi to Dominate Top 10 (October 25 - October 31, 2021)
Sean Fang
Wed, 03/11/2021 - 16:50
Welcome to our new Binge Report format, where instead of tracking binge sessions, we are now keeping track of the most popular movies and original TV shows that Americans have been streaming in the last week. For those interested in Australian numbers (provided to us by streaming search engine JustWatch), please have a look here
The TV Time app (iPhone and Android) helps users organise their streaming plans. The data here is tracked from American users of the app and some shows listed are not available in Australia without the use of a suitable VPN.
Movies:
Now that the expected "Dune" sequel has been announced, the movie is now known as "Dune: Part 1" and it was still the most-streamed movie for the weekend of 29 - 31 October.
In terms of new entries into the top 10, the Zack Snyder produced prequel to "Army of the Dead", Army of Thieves came third, followed by another Netflix film, Hypnotic, in 4th.
It being that time of the year, so the arrival of "Paranormal Activity: Next of Kin" (Paramount+) in 5th, "Hocus Pocus" (Disney+) in 7th and "The Village" (Hulu) in 10th in the top 10 shouldn't be too much of a surprise.
"The Guilty", "Dave Chappelle: The Closer", "Scream", "Halloween", and "Cruella" all left the top 10.
Click on the image below to see a larger version.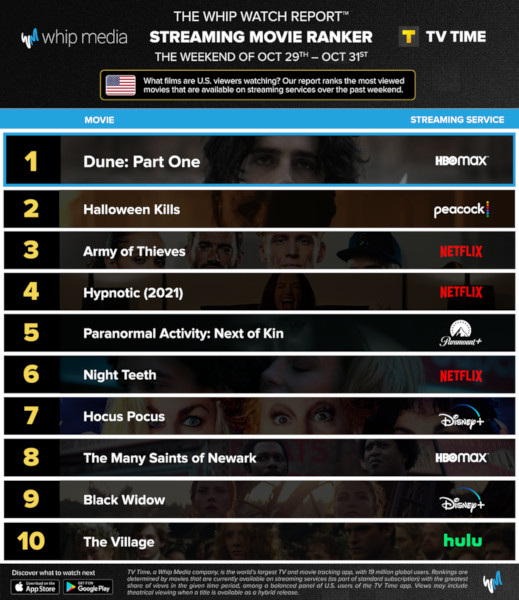 Streaming Originals:
For original series, "SEAL Team" (Paramount+) in 8th was new to the top 10. "Foundation" (Apple TV+), in 9th, comes back into the top 10 - the show is finding its footing after a rocky start and some hate from the anti-PC brigade. It was always a difficult story to adapt to screen, but there is some fascinating world-building going on, and I hope the rest of the season will start to pay off now that the exposition parts are mostly done.
Leaving the top 10 were "Young Justice" and "Another Life".
Click on the image below to see a larger version.