Binge Report U.S Streaming TV & Movie Charts: Halloween Kills Competition (October 11 - October 17, 2021)
Sean Fang
Wed, 20/10/2021 - 16:59
Welcome to our new Binge Report format, where instead of tracking binge sessions, we are now keeping track of the most popular movies and original TV shows that Americans have been streaming in the last week. For those interested in Australian numbers (provided to us by streaming search engine JustWatch), please have a look here
The TV Time app (iPhone and Android) helps users organise their streaming plans. The data here is tracked from American users of the app and some shows listed are not available in Australia without the use of a suitable VPN.
Movies:
It's a distinctly Halloween themed week. Halloween as in the movie, not the holiday. The release of "Halloween Kills" in cinemas and on Peacock also helped people look up the 2018 prequel "Halloween" (fuboTV) in 5th as well as the 1978 movie of the same name "Halloween" (1978) (AMC+) in 9th.
Halloween, the holiday this time, may also be responsible for "Scream 2" (AMC+) and "Tusk" (Showtime) getting on to the top 10 at 6th and 7th, although the former is probably related to the release of the trailer for the new Scream (5) movie.
Leaving the top 10 were the movies "Free Guy", "Malignant", "The Many Saints of Newark", "Cruella", "The Suicide Squad"
Click on the image below to see a larger version.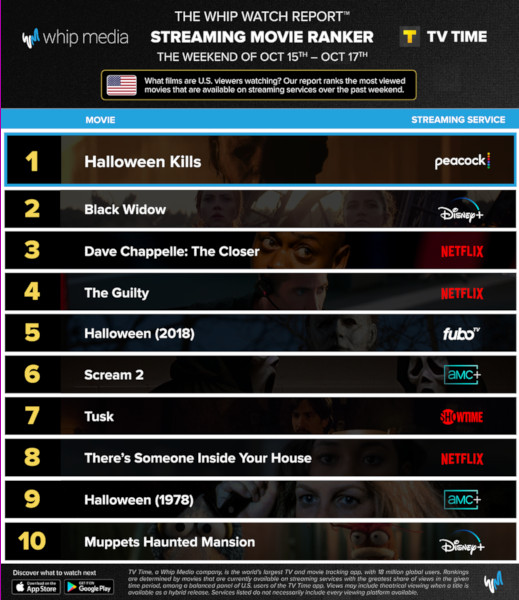 Television:
Netflix's dreamy, perfect boyfriend turned serial killer series You is back for a third season and it was the most streamed original series of the week. The second season of Netflix's Another Life was also new in the top 10, at 9th. "Doom Patrol" (HBO Max) is also back in the top 10, at 10th.
"Marvel's What...If?", "Lucifer", and "Midnight Mass" left the top 10.
Click on the image below to see a larger version.