Binge Report U.S Streaming TV & Movie Charts: The rise of "Black Widow" (October 4 - October 10, 2021)
Sean Fang
Wed, 13/10/2021 - 15:38
Welcome to our new Binge Report format, where instead of tracking binge sessions, we are now keeping track of the most popular movies and original TV shows that Americans have been streaming in the last week. For those interested in Australian numbers (provided to us by streaming search engine JustWatch), please have a look here
The TV Time app (iPhone and Android) helps users organise their streaming plans. The data here is tracked from American users of the app and some shows listed are not available in Australia without the use of a suitable VPN.
Movies:
Black Widow was the most streamed movie for the weekend of October 8th to 10th, thanks to its debut on Disney+ as a free to stream title for subscribers. Netflix's The Guilty (clearly a pandemic movie, given the fact that most of it happening in one room with one actor) continues to enjoy popularity, coming in at second. Dave Chappelle: The Closer has been making the headlines for all the wrong reasons, and being in 3rd, it looks like people are watching to find out what the fuss is all about.
Over at HBO Max, "Malignant" and "The Many Saints of Newark", in 7th and 8th respectively, gives the streaming platform a foothold in the top 10.
Click on the image below to see a larger version.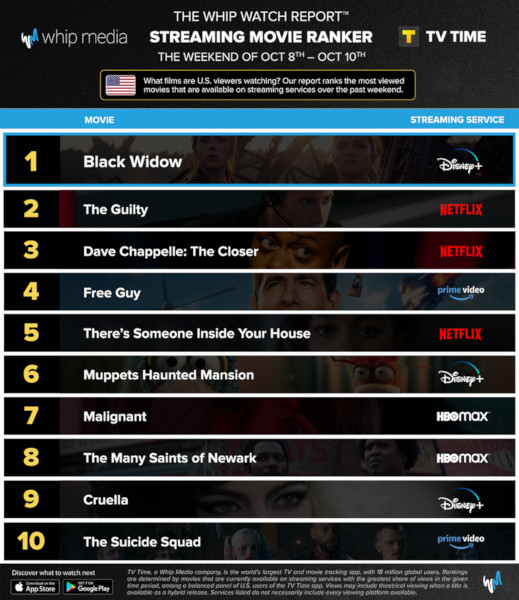 Television:
Squid Game continues to hold audiences captive on the streaming originals top 10, with "Ted Lasso" in second place (the season finale has just aired). On My Block was one of three new entries into the top 10, this series on the back of a new season. Apple TV+'s "The Morning Show" finally enters the chart (at 9th place) after its second season debut a few weeks ago, while Netflix's captivating limited series on domestic abuse, Maid, enters at 10th.
"Sex Education", "Doom Patrol", and "The Circle" left the top 10.
Click on the image below to see a larger version.