Top 10 Aussie Streaming Charts: Hit Sequel Quietly Jumps to Top Spot (Week Ending 19 July 2021)
Sean Fang
Wed, 21/07/2021 - 13:19
Welcome again to our weekly feature where we look at the most popular streaming movies and TV shows in Australia based on data collected by streaming search engine JustWatch. Data includes subscription streaming as well as transactional streaming titles.
Movies:
The original took the box office by surprise, and the sequel looks to have done well there too, but once people were able to watch it at home, "A Quiet Place Part II" looks to be a hit there as well. It was the most streamed movie for the past week, and the original film also ranked third. "The Tomorrow War" dropped from first to fifth, but "Black Widow", the original "Space Jam", "Spider-Man: Far From Home", "Promising Young Woman" and "Peter Rabbit 2" all stayed in the top 10.
This meant that "The Hitman's Bodyguard", "Escape Room", "Godzilla vs Kong" left to make room for "Wrath of Man" in 8th and "The Dead Don't Die" (which was just added to Netflix) in 10th.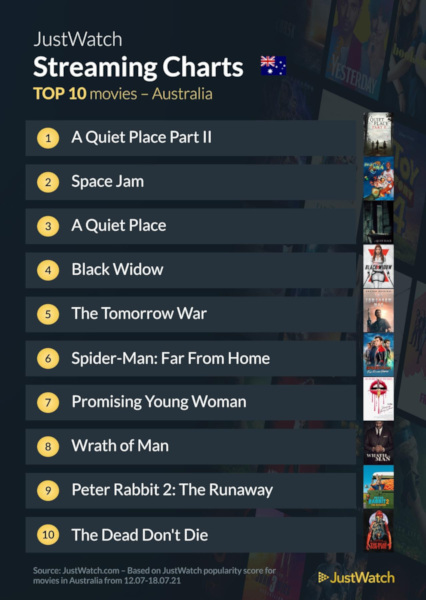 Television:
Lots of changes on the TV charts, but again good to see the acclaimed Aussie crime drama "Mr Inbetween" not only staying in the top 10, but this time becoming the most streamed title in Australia. "Ted Lasso" makes a comeback to the top 10 in anticipation of the new season coming this week, while Stan's new series "Dr. Death" starts strongly with a 5th placed finish (also on Stan, the second season of "This Way Up" allowed the show to get a 9th place finish).
Other notable entries including HBO's "The White Lotus", which you can watch on Binge/Foxtel Go, which is also the place where you can watch the Sean Bean, Stephen Graham prison thriller "Time" (6th in chart). SBS On Demand's "Wellington Paranormal" also makes it into the top 10, at 10th.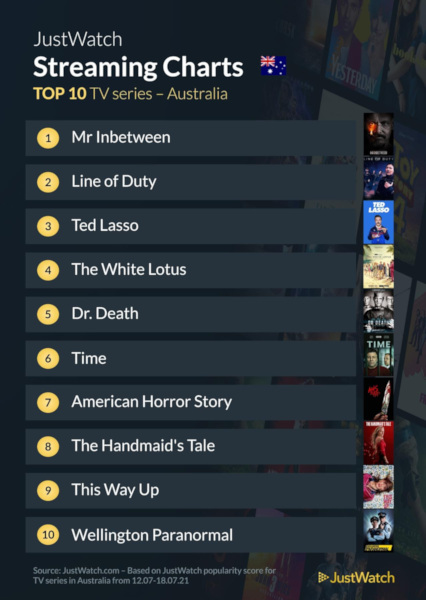 Looking for more content to watch, or looking to see where you can stream that TV or movie you want to watch? JustWatch allows you to easily search for a piece of content and find out how to stream it legally in Australia.