Top 10 Aussie Streaming Charts: "The Tomorrow War" On Top (Week Ending 12 July 2021)
Sean Fang
Wed, 14/07/2021 - 17:43
Welcome to our new weekly feature where we look at the most popular streaming movies and TV shows in Australia based on data collected by streaming search engine JustWatch.
Movies:
Amazon's hit movie "The Tomorrow War" topped the chart this week, and while critics have been less than kind to the movie, viewers seemed to respond to it, with talks of a sequel already happening. The Disney+ Premier Access Marvel flick "Black Widow" was in second place, showing that plenty of people are happy to skip the cinema to watch it at home (not that people in Sydney have much of a choice in the matter right now).
The "sequel" effect also happened with the likes of "Space Jam", "The Hitman's Bodyguard", "A Quiet Place" - all three movies have sequels out now in cinemas, and so it makes sense many will want to check out the previous movies first.
"Promising Young Woman" also deservedly gets a spot in the top 10 - it's the kind of movie that will stay with you after a while, and takes the whole revenge genre in a new direction.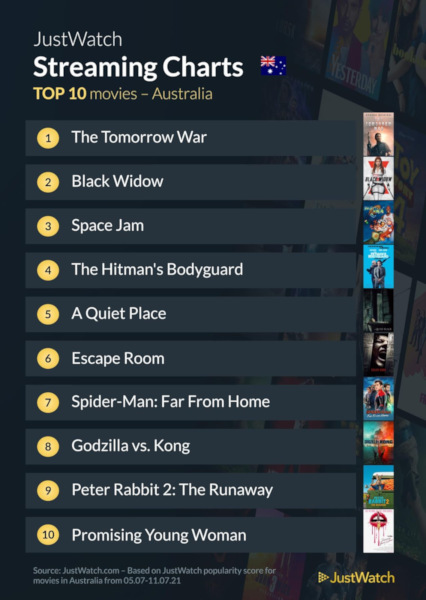 Television:
There were some obvious choices in the Australian streaming top 10 for television series, like "The Handmaid's Tale" in 5th and HBO's superb "Mare of Easttown" in 6th. "The X-Files" being the most popular streaming TV series in Australia is a bit of a surprise though. British TV features prominently in the form of "Line of Duty" and "Doctor Who", and it's great to see Australian content being represented in the form of Binge's "Mr Inbetween", in 4th place.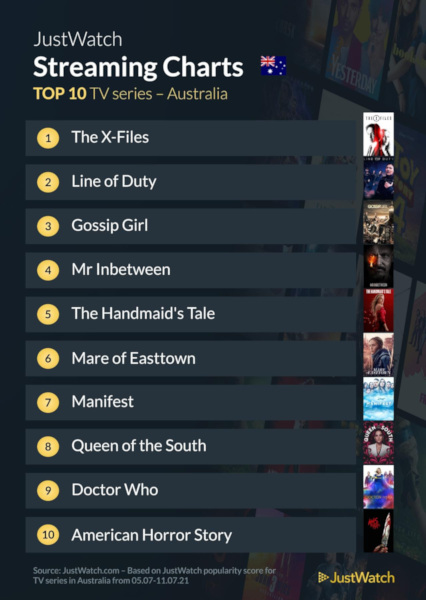 Looking for more content to watch, or looking to see where you can stream that TV or movie you want to watch? JustWatch allows to easily search for a piece of content and find out how to stream it legally in Australia.