Marvel's 616 Review: Get To Know the Marvel Universe - Disney+ Original Anthology Docuseries
Sean Fang
Tue, 17/11/2020 - 04:00
Rating:
Summary: A chance to learn more about the people, the stories and the (forgotten) characters from the Marvel Universe, 8 episodes is not enough though. Highly Recommended!
Earth-616 is the multiverse designation of the universe where much of Marvel's storylines, including the Marvel Cinematic Universe, happens. So it's apt that the new docuseries from Disney+ that goes into detail about those that help create and expand the Marvel Universe, and those that are in it, is named as such.
Spanning 8 episodes in an anthology format where each episode takes on a different subject matter (including "Japanese Spider-Man", "Lost and Found", and "Unboxed"), each episode is either directed by well-known documentary directors such as David Gelb ("Jiro Dreams of Sushi") and Andrew Rossi ("Page One: Inside the New York Times") or well-known but relative newcomers when it comes to directing, Paul Scheer ("The League"), Gillian Jacobs ("Community") and Alison Brie ("GLOW").
With high production values and unparalleled access that you'd expect from a series that has the backing of both Marvel and Disney, each episode represents a standalone, interesting and at times, inspiring look at the world around (and of) Marvel. "Higher Further Faster", directed by Gillian Jacobs, looks at the women behind Marvel, while actor and comedian Paul Scheer take a deeper look at the forgotten Marvel characters in "Lost and Found". And in "Marvel Spotlight", directed by Alison Brie (the potential star of the upcoming Disney+ series "She-Hulk"), the episode takes us behind the scenes of a high school drama production based on a one-act play created by Marvel for use in schools.
If there is one criticism of the series is that 8 episodes simply isn't enough. It's barely scratching the surface of what the Marvel Universe is all about, and we can only hope that there will be more seasons to come.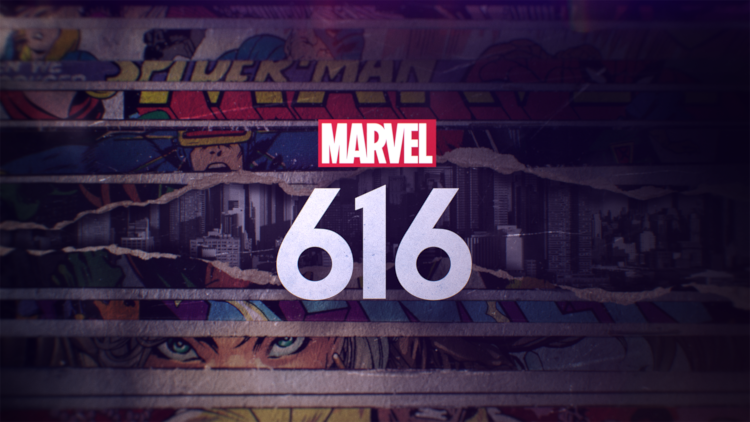 Streambly was honoured to be invited to a roundtable with the executive producers behind the docuseries, as well as three of the episode's directors, Alison Brie, Gillian Jacobs and Paul Scheer. All three offered insight into their method at directing, which was a relatively new experience for most of them, and for some, their first contact with anything Marvel-related. This allowed them to offer a unique perspective to the Marvel Universe, which also helps the docuseries to reach viewers who may not be your typical Marvel fan. For them, directing these episodes was a labour of love, and as you will see throughout the episodes, it's the same labour of love that drives much of the creativity behind the Marvel Universe.
At our roundtable, we asked Alison Brie that, for her episode involving the high school drama students putting on a play based on Marvel characters, who she found most inspiring. Ms Brie said that she found all of them inspiring in different ways and through her own experiences in high school, found them and all the things they go through highly relatable. And that, perhaps, is the most important reason behind the success of Marvel - they may be superheroes, but they are also people saddled with the same problems we all have, and that's what makes them all relatable.
All except Cyclops. He's such a douchebag.
You can stream "Marvel's 616" on Disney+ starting 20 November 2020. Subscribe to Disney+ for only $8.99 per month, or $89.99 per year (16% off).
Here are the available episodes:
"Japanese Spider-Man" Directed by David Gelb
"Higher Further Faster" Directed by Gillian Jacobs
"Amazing Artisans" Directed by Clay Jeter
"Lost and Found" Directed by Paul Scheer
"Suit Up!" Directed by Andrew Rossi
"Unboxed" Directed by Sarah Ramos
"The Marvel Method" Directed by Brian Oakes
"Marvel Spotlight" Directed by Alison Brie
This review contains affiliate links which when used to purchase a product/service, helps to support this site via affiliate commissions. This in no way affects our objectivity when it comes to our reviews.