Netflix Australia: What's New in July 2019
Sean Fang
Fri, 21/06/2019 - 20:25
Got your blanket ready? A cup of something hot in your hands? A roaring fire or a heater on high? And of course, get your Netflix on as well. Yep, it's July in Australia. It's (mostly) cold where you are, and it's the perfect time to watch some Netflix, but only if Netflix provides something good to watch. Have they, for July? Read on to find out!
For those not completely satisfied with what you can get on the Australian version of Netflix, you can easily switch to a different Netflix region by simply using a VPN (read about our tested and recommended VPN provider here). Simply connect to another country via the VPN and you can then watch that region's Netflix, for example U.S. Netflix, complete with their own unique content without doing anything else!
Television:
It's always a guessing game when it comes to new Netflix shows (and movies, but more on that later). For one, Netflix tends to release shows without much fanfare - they suddenly just appear, even though they may have a stellar cast or a renowned director or show-runner at the helm. Unlike studios and networks that invest a lot in promotions (and often have their own networks to do the promotion), Netflix prefers to let word of mouth do the promotion. So for someone like me, it's tough trying to guess what will be the next big thing will be. But try I shall.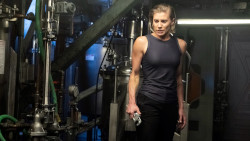 Sci-fi is my thing and new original series 'Another Life' has some big names attached, including sci-fi hall-of-famer Katee Sackhoff and Selma Blair. Sackhoff stars as an astronaut on a mission to find the source of a mysterious alien artifact that has just appeared on Earth, while Blair is a media influencer trying to break the story of her life. You can stream the entire 10-episode first season on July 25.
The truth is often better than fiction, and Netflix combines true crime and history in the docu-drama 'The Last Czars'. Expect drama, upheaval and revolution in this gripping limited series, streaming to Netflix on July 3.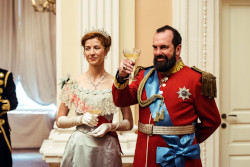 It's a little bit easier to guess which of the returning series will be all the talk in July. Much easier.
The third season of 'Stranger Things' is here, and it's been a long wait as we find out if The Upside Down is coming to an '80s small American town near you (named Hawkins). Start streaming it on the appropriate date of July 4th. 'Orange Is the New Black' is returning for one last time, as season 7 will finally wrap up the story that started all those years ago when a naive, middle-class white woman had to go to jail for a crime committed years ago, and leave his fiancé behind. Boy, that seems like a century ago. Stream the final season on July 26.
There's also more driving, more coffee and more funniness in 'Comedians in Cars Getting Coffee', streaming July 19.
"Look at me, look at moiye, ploise, Kim". Yes, all four seasons of 'Kath and Kim' are coming to Netflix on July 30. And not only that, the Kountdown Specials and the Souvenir Editions are also coming at the same time.
And there's also the penultimate season of 'Suits' - stream season 8 starting on July 19.
Movies, Documentaries:
Here are my picks for the best movies coming to Netflix.
A Netflix remake of the French action hit arrives on Netflix on July 12. 'Point Blank' reunites Marvel adversaries Anthony Mackie (Falcon) and Frank Grillo (Crossbones) as they team up to save Mackie's pregnant wife in a race against time.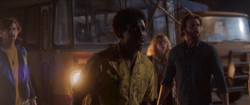 Captain America himself is also busy in another Netflix original, 'The Red Sea Diving Resort'. This is a biographical drama that sees Israel's Mossad agents work frantically to evacuate Jewish-Ethiopians to Israel from Sudan in 1981. Also stars Michael K. Williams ('The Wire'), Haley Bennett ('The Girl on the Train') and Michiel Huisman ('Game of Thrones'). Stream it starting July 31.
If you've binged through all the episodes of 'Stranger Things 3' too quickly and want more, then take a gander at the mockumentary 'Frankenstein's Monster's Monster, Frankenstein', starring David "Jim Hopper" Harbour. Stream this hilarious look at the behind-the-scenes of a fake stage play on July 16.
Then there are the cool movies and classics coming (and some returning) to Netflix in July. In the same way 'Rocky' was not just a movie about boxing, 'Magic Mike' (28/07/2019) is not just a movie about male strippers, and 'Woman in Gold' (10/07/2019) proves Ryan Renold can be a dramatic actor and not just a comedian. Kids can delight themselves for the school holidays with 'The Croods' (1/07/2019), and if they're not bothered by an "oldie", then 'The Goonies' (15/07/2019) is a great watch. Fans of disaster movies (including myself) will want to check out 'San Andreas' (10/07/2019), while in 'Last Action Hero' (1/07/2019), we have perhaps Schwarzenegger's most "meta" movie of his career. 'Elizabeth: The Golden Age' (1/07/2019) was not as good as the first movie, but think of it as a prequel to 'The Crown'. And finally, '80s teen romance 'Sixteen Candles' (1/07/2019) hasn't really aged well in many aspects, but if you ignore the rapey, racist, sexist stuff, the core of a classic still exists.
------
So that's July for you - full of great stuff that's just begging to be binged. What will you watch first?
July Schedule:
Here's a list of everything that's coming to Netflix in July. Content highlighted above shown in bold below.
ORIGINAL SERIES
Designated Survivor: 60 days (1/07/2019)
Bangkok Love Stories: Objects of Affection (2/07/2019)
Bangkok Love Stories: Plead (2/07/2019)
The Last Czars (3/07/2019)
Stranger Things 3 (4/07/2019)
You Me Her: Season 4 (12/07/2019)
Bonus Family: Season 3 (12/07/2019)
Extreme Engagement (12/07/2019)
Blown Away (12/07/2019)
Comedians in Cars Getting Coffee: New 2019: Freshly Brewed (19/07/2019)
La casa de papel: Part 3 (19/07/2019)
Queer Eye: Season 4 (19/07/2019)
Typewriter (19/07/2019)
Workin' Moms: Season 2 (25/07/2019)
Another Life (25/07/2019)
Orange Is the New Black: Season 7 (26/07/2019)
My First First Love: Season 2 (26/07/2019)
Sugar Rush: Season 2 (26/07/2019)
NETFLIX FILM
Cities of Last Things (11/07/2019)
Kidnapping Stella (12/07/2019)
Point Blank (12/07/2019)
4 latas (12/07/2019)
Secret Obsession (18/07/2019)
Boi (26/07/2019)
Girls With Balls (26/07/2019)
The Son (26/07/2019)
The Red Sea Diving Resort (31/07/2019)
ORIGINAL COMEDY
Katherine Ryan: Glitter Room (1/07/2019)
Frankenstein's Monster's Monster, Frankenstein (16/07/2019)
Whitney Cummings: Can I Touch It? (30/07/2019)
ORIGINAL DOCUMENTARY
Parchís: El documental (10/07/2019)
Taco Chronicles (12/07/2019)
Last Chance U: INDY: Part 2 (19/07/2019)
The Great Hack (24/07/2019)
NETFLIX KIDS AND FAMILY
Free Rein: Season 3 (6/07/2019)
Family Reunion (10/07/2019)
3Below: Tales of Arcadia: Part 2 (12/07/2019)
True Tunes: Songs (12/07/2019)
Pinky Malinky: Part 3 (17/07/2019)
The Epic Tales of Captain Underpants: Season 3 (19/07/2019)
The Worst Witch: Season 3 (26/07/2019)
NETFLIX ORIGINAL ANIME
SAINT SEIYA: Knights of the Zodiac (19/07/2019)
Kengan Ashura: Part l (31/07/2019)
HIGHLIGHTS
Monty Python's The Meaning of Life (1/07/2019)
Swiped (1/07/2019)
Anchorman 2: The Legend Continues (1/07/2019)
Big Fat Liar (1/07/2019)
Couples Retreat (1/07/2019)
Easy A (1/07/2019)
Elizabeth: The Golden Age (1/07/2019)
Hotel for Dogs (1/07/2019)
Kicking & Screaming (1/07/2019)
Last Action Hero (1/07/2019)
Mama (1/07/2019)
S.W.A.T. (1/07/2019)
Serenity (1/07/2019)
Seven Pounds (1/07/2019)
Sixteen Candles (1/07/2019)
Step Brothers (1/07/2019)
The Croods (1/07/2019)
The Magic of Lassie (1/07/2019)
The Thing (1/07/2019)
Van Helsing (1/07/2019)
The Lucky One (4/07/2019)
The Foreigner (10/07/2019)
Journey to the Center of the Earth (10/07/2019)
San Andreas (10/07/2019)
Woman in Gold (10/07/2019)
The Shawshank Redemption (15/07/2019)
The Blind Side (15/07/2019)
300: Rise of an Empire (15/07/2019)
Clash of the Titans (15/07/2019)
Fool's Gold (15/07/2019)
Going the Distance (15/07/2019)
Hall Pass (15/07/2019)
Labor Day (15/07/2019)
The Goonies (15/07/2019)
The Sisterhood of the Traveling Pants 2 (15/07/2019)
The Town (15/07/2019)
The Wedding Singer (15/07/2019)
Unknown (15/07/2019)
What a Girl Wants (15/07/2019)
You've Got Mail (15/07/2019)
Happy Death Day (17/07/2019)
Suits: Season 8 (19/07/2019)
The Originals: Season 5 (19/07/2019)
Suburbicon (24/07/2019)
Magic Mike (28/07/2019)
Kath and Kim: Season 1-4 (30/07/2019)
Bad Moms 2 (30/07/2019)
Kath and Kim: Kountdown Specials (30/07/2019)
Kath and Kim: The Souvenir Editions (30/07/2019)
21 & Over (31/07/2019)
The Snowman (31/07/2019)