Stan: What's New in June 2019
Sean Fang
Thu, 30/05/2019 - 17:08
Well, winter is officially here, although if you're in Melbourne like me, it seems it's been unofficially here for a couple of weeks now. Regardless, we're near the halfway point of the year, and so let's see what June has in offer for us on Stan.
Television:
A couple of new shows that could be big hits are coming to Stan in June. 'Perpetual Grace LTD' stars Sir Ben Kingsley and two Aussie stars in the form of Jacki Weaver and No Activity's Damon Herriman. This neo-noir thriller is set in New Mexico that sees a corrupt pastor and his wife trying to fleece his congregation out of their savings. But there's a twist! The couple's own son is teaming up with a grifter to do the same to his parents. You can stream the first episode on June 3, with new episodes coming every Monday.
Kevin Bacon's 'City On A Hill' also looks like it's going to be a winner. This gritty drama is set in corrupt Boston as an assistant district attorney teams up with a corrupt FBI agent to take down criminal gang, not knowing their actions will eventually lead to what's called the "Boston Miracle" and upend Boston's citywide criminal justice system. The show counts Ben Affleck and Matt Damon as executive producers. The show premieres June 17, with new episodes arriving every Monday.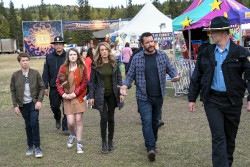 A couple of great shows are also returning for new seasons. The latest season of 'Younger' premieres June 13, as we catch up with Liza, Charles, Josh, and Kelsey is what has been dubbed this generation's Sex and the City (at least according to the Stan ads on TV). New episodes coming every Thursday.
And season 4 of the weird, wrong and extremely funny 'The Detour' premieres June 19, as the Parkers find themselves doing the chasing this time around. New episodes stream every Wednesday.
Movies, Documentaries:
Not a huge line-up of must-see movies in June to be honest, but a couple do stand out.
'Suffragette' stars Carey Mulligan (and I maintain she's never been in a bad movie, although this one may be considered one by her standards), and as the name of the movie suggests, it's about suffragette movement of the early 20th century as the brave women fight for equality and the right to vote. Stream it starting June 5.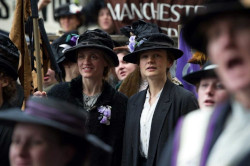 Everybody seems to hate Zach Braff, and while 'Wish I Was Here' (June 11) is nowhere near as good as 'Garden State', it's still worth a watch.
And finally, the documentary 'The Queen of Ireland' follows Ireland's most famous drag queen and self-styled accidental activist, as she becomes a figurehead in the fight for LGBT rights in Ireland and a vital part of the successful campaign for marriage equality. Stream it starting on June 9.
------
A quieter month, but still plenty to watch on Stan in June. What will you be watching?
June Schedule:
Here's a list of everything that's coming to Stan in June. Content highlighted above shown in bold below.
Continuing Series:
Monday: Billions: Season 4 (Finale June 10); The Spanish Princess: Season 1 (Finale June 24); Perpetual Grace LTD: Season 1 (Premiere June 3); Our Cartoon President: Season 2; Claws: Season 3 (Premiere June 10); City On A Hill: Season 1 (Premiere June 17);
Wednesday: The Last O.G.: Season 2 (Finale June 5), The Bold Type: Season 3 (Finale June 12); The Detour: Season 4 (Premiere June 19)
Thursday: Younger: Season 6 (Premiere June 13);
Friday: A.P. Bio: Season 2 (Finale June 7); iZombie: Season 5; Ben 10 (2016): Season 3; iZombie: Season 5;
Available June 1
Apple and Onion: Season 1
Eternity
June 2
Legends of the Hidden Temple
20 Feet From Stardom
June 3
Billions: Season 4, Episode 11
The Spanish Princess: Season 1, Episode 5
Perpetual Grace LTD: Season 1, Episode 1 - Premiere
Our Cartoon President: Season 2, Episode 4
On Body and Soul
June 4
Desus & Mero: Season 1, Episode 18
Love & Hip Hop: Season 7
Custody
June 5
The Last O.G.: Season 2, Episode 10 - Final
The Bold Type: Season 3, Episode 9
Suffragette
Glory
June 6
Detroiters: Season 1
Meteors
June 7
A.P. Bio: Season 2, Episode 12 & 13 - Final
iZombie: Season 5, Episode 6
Desus & Mero: Season 1, Episode 19
Ben 10 (2016): Season 3, Episode 20
Jirga
June 8
Paw Patrol: Season 4
Albert
Kill the Messenger
June 9
Henry Danger: Season 3 & 4 (Part 1)
The Queen of Ireland
June 10
Billions: Season 4, Episode 12- Final
The Spanish Princess: Season 1, Episode 6
Perpetual Grace LTD: Season 1, Episode 2
Claws: Season 3, Episode 1 - Premiere
Our Cartoon President: Season 2, Episode 5
Seventeen
June 11
Desus & Mero: Season 1, Episode 20
Not So Sweet Sixteen
Wish I Was Here
The Yellow Sea
June 12
The Bold Type: Season 3, Episode 10 - Final
My Mum's Hotter Than Me...The Series: Season 1
Black
June 13
Younger: Season 6, Episode 1 - Premiere
Jeune Femme
June 14
iZombie: Season 5, Episode 7
Desus & Mero: Season 1, Episode 21
Ben 10 (2016): Season 3, Episode 21 & 22
Another Period: Season 2
Rufus
Rufus 2
Cave
June 15
Harmony
A Little Chaos
June 16
Drunk Stoned Brilliant Dead: The Story of the National Lampoon
June 17
City On A Hill: Season 1, Episode 1 - Premiere
The Spanish Princess: Season 1, Episode 7
Perpetual Grace LTD: Season 1, Episode 3
Claws: Season 3, Episode 2
Our Cartoon President: Season 2, Episode 6
Song of Granite
June 18
Desus & Mero: Season 1, Episode 22
Escobar: Paradise Lost
Holy Air
June 19
The Detour: Season 4, Episode 1 - Premiere
Tattoo Disasters: Season 1
Highway to Hellas
June 20
Younger: Season 6, Episode 2
The Misandrists
June 21
iZombie: Season 5, Episode 8
Desus & Mero: Season 1, Episode 23
Ben 10 (2016): Season 3, Episode 23 & 24
Dating Naked: Season 2
Rusty Rivets: Season 1
Bizarre
June 22
Spongebob Squarepants: Season 10
Janis: Little Girl Blue
June 23
Nicky, Ricky, Dicky and Dawn: Season 3
Open Season (2006)
Maniac
June 24
City On A Hill: Season 1, Episode 2
The Spanish Princess: Season 1, Episode 8 - Final
Perpetual Grace LTD: Season 1, Episode 4
Claws: Season 3, Episode 3
Our Cartoon President: Season 2, Episode 7
Glue
June 25
Desus & Mero: Season 1, Episode 24
The Butcher Breast Surgeon: Why Wasn't He Stopped?
Queen of the Desert
Chef's Special
June 26
The Detour: Season 4, Episode 2
Teen Mom UK: Season 2
Every Witch Way: Season 4
Disappearance
June 27
Younger: Season 6, Episode 3
Dora & Friends: Season 2
Tiny Christmas
The Last Family
June 28
iZombie: Season 5, Episode 9
Desus & Mero: Season 1, Episode 25
Ben 10 (2016): Season 3, Episode 25 & 26
Catfish: The TV Show: Season 6
Top Wing: Season 1 (Part 1)
Shimmer & Shine: Season 3 (Part 1)
Teenage Mutant Ninja Turtles: Season 4
Escape From Lemoncello's Library
Pudsey the Dog Movie
Daddy
June 29
Ex on the Beach U.S.: Season 1
I Am Frankie: Season 1
Justin and the Knights of Valour
June 30
The Thundermans: Season 4
Jungle Shuffle
Shame (1988)