Netflix Australia: What's New in May 2019
Sean Fang
Thu, 25/04/2019 - 17:27
May means that winter is nearly here, but not quite. It's getting to that time of the year that a warm drink, a cozy blanket and Netflix become the thing to do at night, at least for boring people like me. And this May, you won't have to worry about not having anything to watch on Netflix, because there are some real gems.
For those not completely satisfied with what you can get on the Australian version of Netflix, you can easily switch to a different Netflix region by simply using a VPN (read about our tested and recommended VPN provider here). Simply connect to another country via the VPN, for example, the United States, and you can then watch that region's Netflix complete with their own unique content without doing anything else!
Television:
I try to make it a game to see if I can guess which of Netflix's new original television series will be the next big thing, and based on the very limited information I (and most others) get from Netflix, it's often hard to judge. It's all a democratic thing - the show's binge-worthiness will ultimately determine its fate, but I will still try to make a few guesses.
Dark comedies are my thing and with heavyweights Christina Applegate (Bad Moms, Married with Children) and Linda Cardellini ('Freaks and Geeks', 'Mad Men') involved, 'Dead to Me' looks like a sure bet. Stream it starting May 3rd.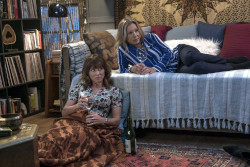 The premise of 'The Society' is what makes me thinks this show could have legs (famous last words). A group of teenagers are mysteriously transported to an exact replica of their hometown, minus their parents, and they now have to figure out what's happening, how to get home and protect themselves from each other before the real danger sets in. If that has you intrigued, check out 'The Society' starting May 10.
Anthology series are all the rage ever since 'American Horror Story' showed us what could be possible. WHAT / IF (24/05/2019) comes from the writing minds of Mike Kelley ('Revenge') and stars Renée Zellweger in her first Netflix production. Apparently, the show is all about "the ripple effects of what happens when acceptable people start doing unacceptable things", with each season telling a different story. The first season is about newlyweds who accepts a morally dubious proposition in order to gain a financial windfall.
The Central Park Five case might be familiar to those who have seen the Ken Burns documentary, and 'When They See Us' is the dramatised re-telling of the same story. Stream it at the end of the month (31/05/2019).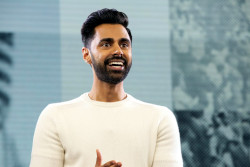 Returning series this month include season five of 'The 100' (1/05/2019), 'The Rain': Season 2 (17/05/2019), and Hasan Minhaj returns with his funny and insightful 'Patriot Act with Hasan Minhaj: Volume 3' (12/05/2019) - also check out Hasan Minhaj's stand-up special Homecoming King, one of the best I've seen recently.
Better late than never (late due to Foxtel antics), the final episodes of 'Arrested Development: Season 5' arrives on May 30. The decision to make more Arrested Development episodes, in hindsight, seems like a mistake but this the last chance we'll have to enjoy the antics of the Bluth family, so that's something?
Movies, Documentaries:
Lots of good movies arriving on Netflix in May, including two very interesting original films. 'Extremely Wicked, Shockingly Evil and Vile' will see Zac Efron star as serial killer Ted Bundy in this creepy series told from the perspective of Bundy's longtime girlfriend. Stream it on May 3.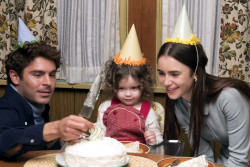 Produced by Spike Lee, 'See You Yesterday' is based on the short of the same name, about two teen prodigies that invent a time machine to save the life of a family member. 'See You Yesterday' hits Netflix on May 17.
These 2017 hits are just hitting Netflix, and they're all interesting enough to warrant a watch (but probably not interesting enough for you to have seen them at the cinemas - hence the need for Netflix). The funny 'Girl Trip' (13/05/2019), the stylish 'Atomic Blonde' (15/05/2019), the scar 'The Meg' (28/05/2019) and the funny action film 'The Hitman's Bodyguard' (29/05/2019).
And I always have time for 'The Perks of Being a Wallflower' (13/05/2019), and classics like 'Lawrence of Arabia' (restored version - coming 1/05/2019).
------
Looks like an exciting May to me.
May Schedule:
Here's a list of everything that's coming to Netflix in May. Content highlighted above shown in bold below.
ORIGINAL SERIES
Undercover (3/05/2019)
Flinch (3/05/2019)
Dead to Me (3/05/2019)
Tuca & Bertie (3/05/2019)
Abyss (6/05/2019)
Lucifer: Season 4 (8/05/2019)
Tiny House Nation (9/05/2019)
Easy: Season 3 (10/05/2019)
The Society (10/05/2019)
Jailbirds (10/05/2019)
Patriot Act with Hasan Minhaj: Volume 3 (12/05/2019)
Well Intended Love (17/05/2019)
The Rain: Season 2 (17/05/2019)
White Gold: Season 2 (17/05/2019)
It's Bruno (17/05/2019)
Nailed It!: Season 3 (17/05/2019)
One Spring Night (22/05/2019)
Slasher: Solstice (23/05/2019)
High Seas (24/05/2019)
She's Gotta Have It: Season 2 (24/05/2019)
WHAT / IF (24/05/2019)
How to Sell Drugs Online (Fast) (31/05/2019)
Bad Blood: Season 2 (31/05/2019)
Playing with Fire (Jugar con fuego) (31/05/2019)
Good Girls: Season 2 (31/05/2019)
Black Spot: Season 2 (31/05/2019)
When They See Us (31/05/2019)
The Mechanism: Season 2 (Coming in May)
NETFLIX FILM
Munafik 2 (1/05/2019)
Jo Pil-ho: The Dawning Rage (3/05/2019)
Alles ist gut (3/05/2019)
Despite Everything (3/05/2019)
Extremely Wicked, Shockingly Evil and Vile (3/05/2019)
The Last Summer (3/05/2019)
Shéhérazade (10/05/2019)
Dry Martina (10/05/2019)
Gente que viene y bah (10/05/2019)
Wine Country (10/05/2019)
Good Sam (16/05/2019)
Morir para contar (17/05/2019)
Maria (17/05/2019)
See You Yesterday (17/05/2019)
Furie (22/05/2019)
Joy (24/05/2019)
Rim of the World (24/05/2019)
The Perfection (24/05/2019)
Svaha: The Sixth Finger (30/05/2019)
Chopsticks (30/05/2019)
Always Be My Maybe (31/05/2019)
ORIGINAL COMEDY
Still LAUGH-IN: The Stars Celebrate (14/05/2019)
Wanda Sykes: Not Normal (21/05/2019)
Historical Roasts (27/05/2019)
ORIGINAL DOCUMENTARY
Knock Down The House (1/05/2019)
All In My Family (3/05/2019)
ReMastered: The Lion's Share (10/05/2019)
1994: Limited Series (17/05/2019)
A Tale of Two Kitchens (22/05/2019)
After Maria (24/05/2019)
Killer Ratings (31/05/2019)
NETFLIX KIDS AND FAMILY
Cupcake & Dino - General Services: Season 2 (3/05/2019)
True and the Rainbow Kingdom: Mushroom Town (3/05/2019)
Harvey Girls Forever!: Season 2 (10/05/2019)
Malibu Rescue (13/05/2019)
Chip & Potato (17/05/2019)
Prince of Peoria: Part 2 (20/05/2019)
NETFLIX ORIGINAL ANIME
revisions (14/05/2019)
HIGHLIGHTS
The 100: Season 5 (1/05/2019)
Transformers: The Last Knight (4/05/2019)
Schitt's Creek: Season 5 (10/05/2019)
Atomic Blonde (15/05/2019)
The Meg (28/05/2019)
Arrested Development: Season 5 (30/05/2019)
Bridge to Terabithia (1/05/2019)
The Hangover: Part III (1/05/2019)
Lawrence of Arabia: Restored Version (1/05/2019)
After Earth (1/05/2019)
Resident Evil: Retribution (1/05/2019)
Gotti (1/05/2019)
Cloudy with a Chance of Meatballs: Season 1 (1/05/2019)
Pine Gap: Season 1 (1/05/2019)
The Frankenstein Chronicles: Season 2 (1/05/2019)
Two Night Stand (1/05/2019)
Begin Again (1/05/2019)
Hairspray (2007) (8/05/2019)
Rogue (8/05/2019)
Yes Man (8/05/2019)
Girl Trip (13/05/2019)
The Perks of Being a Wallflower (13/05/2019)
The Notebook (14/05/2019)
The Circle (15/05/2019)
Await Further Instructions (15/05/2019)
Shetland: Season 3 (15/05/2019)
Step Up (16/05/2019)
The Flintstones (16/05/2019)
Jane Eyre (16/05/2019)
Miami Vice (16/05/2019)
Funny People (16/05/2019)
Land of the Lost (16/05/2019)
The Legend of Sleepy Hollow (16/05/2019)
Beat Bugs: All Together Now (21/05/2019)
Miss Congeniality (22/05/2019)
My Big Fat Greek Wedding (22/05/2019)
Gran Torino (22/05/2019)
American Sniper (22/05/2019)
The Imitation Game (22/05/2019)
Free Birds (22/05/2019)
Gifted (29/05/2019)
The Hitman's Bodyguard (29/05/2019)