Netflix Australia: What's New in January 2019
Krystle Shrimpton
Sat, 29/12/2018 - 18:04
Long balmy days beckon at the beach, with Aussie summers stretching out into the distance. For the rest of us caught up in long commutes or having quiet self-care days, let's dive into the Netflix release list and check out what's available in the new year.
If you're rolling out of bed and want some chit chat, pull up 'Comedians of the World'. The first-of-its-kind series will showcase 47 comedians from 13 regions in eight languages. Proud Aussies Urzila Carlson, Joel Creasey, Nazeem Hussain and Cal Wilson will represents us while the US, Canada, Quebec, South Africa, UK, France, Mexico, Brazil, Netherlands, Germany, India and the Middle East will also feature.
Television:
Before we get to January, there are often content that was added in December that was announced after we published our preview last month, and coming on New Year's Eve is a big one, one of the biggest stadium tours ever. Taylor Swift reputation Stadium Tour is the official concert film for the star's latest (and just concluded) tour. Get ready to be awed by the sights and sounds of this history breaking tour in this Netflix exclusive.
And here's a first - an interactive, I'd like to say TV show (?), from Netflix that, unfortunately, will only work on selected Netflix capable devices. I'm talking about Black Mirror: Bandersnatch, the latest 'Black Mirror' episode with a distinct difference - you decide what happens! The blurb for the special goes like "In 1984, a young programmer begins to question reality as he adapts a dark fantasy novel into a video game. A mind-bending tale with multiple endings" - so with that story in mind, the interactive element of this piece of very unique content isn't so out of place. Try it now, but just not on the Apple TV, Chromecast or outdated devices.
New year, new habits? Flick on 'Tidying up with Marie Kondo' as tidy guru Marie Kondo visits families and gently converts them to her minimalist way of living, using thoughtful decluttering and curating their spaces. Finally, 'Star Trek Discovery' S2 returns on Jan 18, with a temporary Captain at the bridge. And new 'Titans' is live action series reimagined with Robin (Dick Grayson) at the helm and leading a group of youngsters with powers, recruiting them to fight injustice.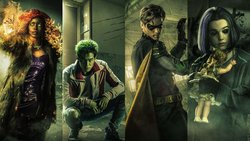 Gillian Anderson returns to TV with Asa Butterfield in 'Sex Education'. Daily life is already awkward for teenagers, much less one who has sex therapists as parents! (Jan 11).
Last ever season of 'Unbreakable Kimmy Schmidt S4, Part 2' ties up some loose ends, including a Sliding Doors style episode to show life if Kimmy had never been kidnapped. There's an as-yet-unconfirmed date for Marvel's The Punisher S2, and no trailer yet, so keep watching with us!
Plenty for kids and families to enjoy together, such as 'A Series of Unfortunate Events' S3 (Jan 1), 'Trolls: The Beat Goes On!' S5 (Jan 18), 'Boss Baby' (Jan 27), young adults favourite, 'Scott Pilgrim vs the World', (Jan 18), and animated series 'Carmen Sandiego' based on the international thief.
Documentaries:
Not quite what it sounds like, rapper Killer Mike will launch his own TV series, 'Trigger Warning with Killer Mike which promises to be an examination of the human culture and conditions, in new and unexpected ways.
Movies:
Have to confess I'm looking forward to the remade, female led 'Ghostbusters', (Jan 12) as a popcorn filled night in. And not only cos we have Chris Hemsworth as secretary with plenty of goofballing. If you really want to relive your childhood Saturdays, Netflix also have the animated series, 'The Real Ghostbusters', all five seasons!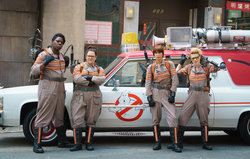 Couple of other offerings that have jumped out include 'Pitch Perfect', an all-girl group who bond over music and start entering competitions, '21' - a real story of a college teacher who recruits bright young MIT students to his poker playing group, to play in Las Vegas. Or pick 'Dark Shadows', a slightly bumbling vampire returns to his family after a long sleep (In the 1970's), Tim Burton style. My last favourite is Tom Hanks in 'Castaway', a lone survivor of an airplane crash who saves himself, and lives to write the book.
------
So that's it for another month, the first of a new year. See you on the other side soon, folks!
January Schedule:
Here's a list of everything that's coming to Netflix in January. Content highlighted above shown in bold below.
ORIGINAL SERIES
COMEDIANS of the world (1/1/2019)
Tidying Up with Marie Kondo (1/1/2019)
Ten Percent (aka Call My Agent!): Season 3 (4/1/2019)
When Heroes Fly (10/1/2019)
Sex Education (11/1/2019)
Friends from College: Season 2 (11/1/2019)
Titans (11/1/2019)
Grace and Frankie: Season 5 (18/1/2019)
Justice (21/1/2019)
Black Earth Rising (25/1/2019)
Kingdom (25/1/2019)
IClub de Cuervos: Season 4 (25/1/2019)
Unbreakable Kimmy Schmidt Season 4 Part 2 (25/1/2019)
Marvel's The Punisher: Season 2 (Coming Soon)
NETFLIX WEEKLY SERIES
Star Trek: Discovery: Season 2 (1/18/2019)
NETFLIX FILM
Lionheart (4/1/2019)
Solo (11/1/2019)
The Last Laugh (11/1/2019)
Revenger (15/1/2019)
IO (18/1/2019)
Soni (18/1/2019)
Close (18/1/2019)
Animas (25/1/2019)
Polar (21/1/2019)
ORIGINAL COMEDY
Sebastian Maniscalco: Stay Hungry (15/1/2019)
Gabriel "Fluffy" Iglesias: One Show Fits All (29/1/2019)
ORIGINAL DOCUMENTARY
ReMastered: Massacre at the Stadium (11/1/2019)
FYRE: The Greatest Party That Never Happened (18/1/2019)
Trigger Warning with Killer Mike (18/1/2019)
Conversations with a Killer: The Ted Bundy Tapes (24/1/2019)
NETFLIX KIDS AND FAMILY
A Series of Unfortunate Events: Season 3 (1/1/2019)
Pinky Malinky (1/1/2019)
Carmen Sandiego (18/1/2019)
Trolls: The Beat Goes On!: Season 5 (18/1/2019)
NETFLIX ORIGINAL ANIME
GODZILLA The Planet Eater (9/1/2019)
HIGHLIGHTS
The Amazing Spider-Man (1/1/2019)
Conor McGregor: Notorious (1/1/2019)
The Book of Henry (1/1/2019)
Deep Impact (1/1/2019)
Dark Shadows (1/1/2019)
Made of Honor (1/1/2019)
Imagine That (1/1/2019)
21 (1/1/2019)
Trolls (1/1/2019)
The Stepford Wives (1/1/2019)
Cast Away (1/1/2019)
Kramer vs. Kramer (1/1/2019)
Game Night (1/1/2019)
The Investigator: A British Crime Story: Season 2 (1/1/2019)
Ghostbusters (12/1/2019)
A Cure for Wellness (13/1/2019)
Colony: Season 1&2 (14/1/2019)
Drake: Rewriting the Rules (15/1/2019)
Pitch Perfect (18/1/2019)
Babe (18/1/2019)
Senna (18/1/2019)
Scott Pilgrim vs. the World (18/1/2019)
When Calls the Heart: Season 5 (18/1/2019)
The Lincoln Lawyer (26/1/2019)
Conan the Barbarian (26/1/2019)
Ghosts of Girlfriends Past (26/1/2019)
The Boss Baby (27/1/2019)
The New Legends of Monkey: Season 1 (28/1/2019)
Fist Fight (30/1/2019)
------
Krystle Shrimpton (Facebook, LinkedIn) is a contributor for Streambly.