Netflix USA: What's New in December 2018
Sean Fang
Sun, 02/12/2018 - 11:43
Can't believe it's already December. Let's take a look what the end of the year brings to the US version of Netflix.
For Australians (or non USA residents really) that want to access the US version of Netflix, which has if not more content, then at least different content than the local version, the best way to do that is described in our updated guide here. Sure, there are other ways, cheaper ways, but none more reliable than what we have tested (and what we are actually using for ourselves). And sometimes the opposite is true, and if you're in the US, you might also want to check out some of the stuff in the Australian version that you won't get back home (which this month includes TV shows like 'The Good Place' season 3, and movies like 'The Intern', 'The Commuter' and 'Arrival') - our method works the other way too!
And while Netflix's library is out of sync geographically, there are still a lot of the same additions regardless of where you are, especially when it comes to Netflix originals. And so this article focuses on content that you won't get in Australia or hasn't been covered by our 'Netflix Australia: What's New in December' article, and so a quick glance of that article is recommended as well.
Television:
There are some really interesting additions to the vast Netflix library in terms of television content for December. The one that I'm probably most looking forward to, and most terrified of, is the Netflix Original version of 'Watership Down'. The limited series, whose release date is yet to be confirmed, is based on the best selling novel of the same name, and tells the survival adventure of a group of rabbits seeking a new home after the destruction of their warren. A kind of post-apocalyptic story featuring rabbits with cute names like Dandelion and Strawberry. But don't be fooled, if the new Netflix version is anything like the 1978 animated version, then be prepared for a terrifying and traumatic experience. Murder, enslavement, death and destruction. But with cute bunny rabbits.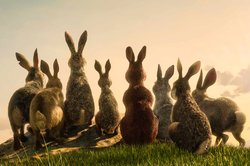 Law & Order SVU alumni Christopher Meloni stars in the new series 'Happy', again as a police detective, but this time a disgraced one who just happens to befriend a blue, winged unicorn named Happy (voiced by Patton Oswalt) as he embarks on a mission to save his estranged daughter, for whom Happy is her imaginary friend. Yep, not making any of it up. The series, based on the comic book of the same name, has received some great reviews and you can stream the entire season 1 on December 6.
Here's an interesting one. Controversial (and extremely trashy) Aussie reality series 'Yummy Mummies' is now on Netflix US. There's not a lot of Aussie content on the US version of Netflix, so it's kind of a shame that this would be the show that Netflix chooses to export tot he States. I hope they don't think we're all like this (but maybe better this than the Crocodile Dundee, tie me Kangaroo down, knifey/spoony stereotypes). The entire season 1 (and thankfully there was only one season) starts streaming on December 28 (also available on Oz Netflix, if you care).
Returning series include season 3 of 'The Magicians' (December 24).
Movies, Documentaries:
The big release, and probably the last major release as part of Disney/Netflix's almost expired deal, is 'Avengers: Infinity War'. The latest 'Avengers' movie won't be available on Australian Netflix for a while (or may never get here), and is the kind of big, expensive (to license) releases that helped Netflix to success, but has been deemed surplus to requirements thanks to the ever increasing success of Originals. Stream it on December 25.
Acclaimed physicist, genius Stephen Hawking died on the birthday of Albert Einstein this year (which also happened to be my birthday), which makes watching 'The Theory of Everything' even more poignant. It's an excellent film starring the perfectly cast Eddie Redmayne and it's one you should watch on December 16 when it starts streaming.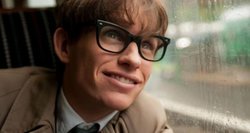 The Zombie genre is now definitely overdone, and even the comedy Zombie genre has too many mediocre films in it. But 'Shaun of the Dead' (December 1) was one of the first, if not the first, and still one of the best.
And if you're in the mood for something really scary on "New Year's Eve"-Eve, then 'The Autopsy of Jane Doe' (December 30) might float your boat.
Those looking for good docos, should check out 'The Bill Murray Stories: Life Lessons Learned From a Mythical Man' (December 31) and 'Blue Planet II' (December 3).
Leaving Netflix:
All good things ... and that's true again in December, as some really good content will be leaving Netflix, some forever, some only temporarily. Some highlights of departing shows and movies include 'Sons of Anarchy: Seasons 1-7' (December 1); too many 'Air Bud' movies to name on December 4; 'Ip Man: The Final Fight' (December 19); and the Oscar winning (and worthy) 'Spotlight' (December 22).
------
So that's December for you on Netflix US. Plenty of stuff to watch to justify your spend on a VPN then.
December Schedule:
Here's a list of everything that's coming to the US version of Netflix in December. Content highlighted above shown in bold below.
Available December 1
8 Mile
Astro Boy
Battle
The Big Lebowski
Bride of Chucky
Christine
Cloudy with a Chance of Meatballs
Crossroads: One Two Jaga
Friday
Friday After Next
The Great British Baking Show: Masterclass: Season 5 Masterclasses
Hellboy
The Last Dragon
Man vs Wild with Sunny Leone: Season 1
The Man Who Knew Too Little
Meet Joe Black
Memories of the Alhambra
My Bloody Valentine
Next Friday
Reindeer Games
Seven Pounds
Shaun of the Dead
Terminator Salvation
December 2
The Lobster
December 3
Blue Planet II: Season 1
Hero Mask
The Sound of Your Heart: Reboot Season 2
December 4
District 9
December 6
Happy: Season 1
December 7
5 Star Christmas
The American Meme
Bad Blood
Dogs of Berlin
Dumplin'
Free Rein: The Twelve Neighs of Christmas
The Hook Up Plan (Plan Coeur)
Mowgli: Legend of the Jungle
Nailed It! Holiday
Neo Yokio: Pink Christmas
Pine Gap
The Ranch: Part 6
ReMastered: Who Killed Jam Master Jay?
Super Monsters and the Wish Star
December 9
Sin senos sí hay paraíso: Season 3
December 10
Michael Jackson's This Is It
December 11
Vir Das: Losing It
December 12
Back Street Girls: Gokudols
Out of Many, One
December 13
Wanted: Season 3
December 14
Chilling Adventures of Sabrina: A Midwinter's Tale
Cuckoo: Season 4
Dance & Sing with True: Songs
The Fix
Fuller House: Season 4
The Innocent Man
Inside the Real Narcos
Inside the World's Toughest Prisons: Season 3
Prince of Peoria: A Christmas Moose Miracle
The Protector
Roma
Sunderland Til I Die
Tidelands
Travelers: Season 3
Voltron: Legendary Defender: Season 8
December 16
Baby Mama
Kill the Messenger
One Day
Springsteen on Broadway
The Theory of Everything
December 18
Baki
Ellen DeGeneres: Relatable
Terrace House: Opening New Doors: Part 5
December 21
3Below: Tales of Arcadia
7 Days Out
Back With the Ex
Bad Seeds
Bird Box
The Casketeers
Derry Girls
Diablero
Greenleaf: Season 3
Last Hope: Part 2
Perfume
Sirius the Jaeger
Struggle: The Life and Lost Art of Szukalski
Tales by Light: Season 3
Wolf (BÖRÜ)
December 24
Hi Score Girl
The Magicians: Season 3
December 25
Anthony Bourdain: Parts Unknown — Season 11
Marvel Studios' Avengers: Infinity War
December 26
Alexa & Katie: Season 2
You
December 28
Instant Hotel
La noche de 12 años
Selection Day
When Angels Sleep
Yummy Mummies - Season 1
December 30
The Autopsy of Jane Doe
December 31
The Bill Murray Stories: Life Lessons Learned From a Mythical Man
December TBD
Watership Down: Limited Series
Leaving Netflix in December:
Leaving December 1
Cabin Fever
Cabin Fever 2: Spring Fever
The Covenant
The Game
Groundhog Day
Happily N'Ever After
Happily N'Ever After 2: Snow White
Hellbound: Hellraiser II
Hellraiser
Sons of Anarchy: Seasons 1-7
Spider-Man 3
Spy Hard
Stephen King's Children of the Corn
Swept Under
December 4
Air Bud: Seventh Inning Fetch
Air Bud: Spikes Back
Air Bud: World Pup
Air Buddies
Cars Toon: Mater's Tall Tales
Spooky Buddies
Tarzan & Jane
The Brave Little Toaster Goes to Mars
The Brave Little Toaster to the Rescue
The Crimson Wing: Mystery of the Flamingos
The Search for Santa Paws
Tinker Bell
Tinker Bell and the Great Fairy Rescue
Tinker Bell and the Lost Treasure
December 7
Trolls
December 10
Battle Royale
Battle Royale 2
Teeth
December 15
Step Up 2: The Streets
December 16
Tinker, Tailor, Soldier, Spy
December 17
Beverly Hills Chihuahua 2
December 19
Ip Man: The Final Fight
December 20
Disney's Moana
Food, Inc.
I Give It a Year
December 22
Spotlight
December 25
Disney's Pirates of the Caribbean: The Curse of the Black Pearl
December 31
Troy