Foxtel Lowers Prices To Combat Piracy, Threat of Netflix
Sean Fang
Sat, 13/09/2014 - 17:38
Australia's sole subscription TV provider will drop the price of its basic package by half, as the company gears up in anticipation of Netflix's local introduction in 2015. The current $49 per month "Essential" package, which is the base package needed to access all other packages including Sports and Movies, will make way for a $25 "Entertainment" base. The other major change see a new add-on "Drama" package that includes access to hit shows like 'Game of Thrones' and 'The Walking Dead', shows that have been popular with movie pirates here in Australia.
Existing subscribers will see the popular FX and SoHo channels, plus a few others, move out of the basic Essential package. The loss of FX is particularly problematic, as the channel has been airing new episodes of The Walking Dead within hours of the original U.S. broadcast, and was one of the main draw cards of the basic package. To make up for the loss of these channels, Foxtel will provide "bonus content" based on each subscribers current package (as of August 5th), which not only adds back the removed channels, but will also include other channels previously only available to an additional fee. All existing subscribers will also now receive the popular Showcase channel, which includes fast-tracked airings of all HBO shows, including the much-pirated 'Game of Thrones'.
The major shake-up also includes the introduction of a new BoxSets channel, which commentators have labeled as Foxtel's response to Netflix. The channel will continuously air complete seasons of popular shows, including HBO's 'Game of Thrones' and 'The Newsroom', with these episodes also available in Internet on-demand fashion through the Foxtel set-top box, or via Foxtel's mobile apps. The BoxSets channels is available as part of the $20 Drama package, or free to existing subscribers who already subscribe to one of the "General Entertainment" packs (the "Documentary & Adventure", "Drama & Lifestyle" and "Kids & Music" packs).
The new pricing comes into effect on November 3rd. Existing subscribers have been sent a letter advising them of the changes and with details of their bonus content.
The Changes At-A-Glance:
New Channel Packages: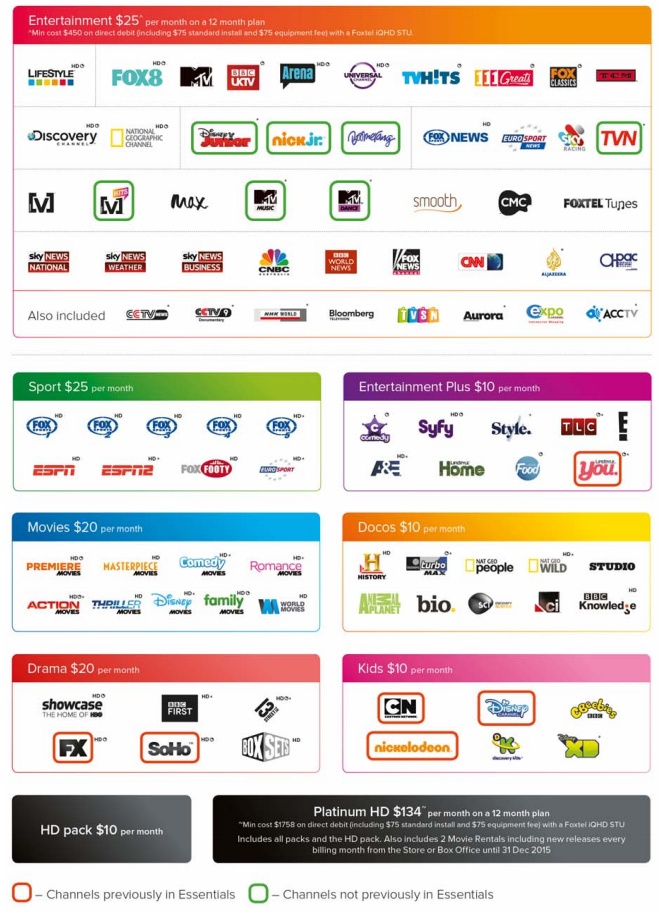 Bonus Content:
All existing subscribers, will receive as a bonus:

Subscribers of at least one of the "Documentary & Adventure", "Drama & Lifestyle" and "Kids & Music" packs, will receive as a bonus:

Other bonus content: based on your existing subscription as of August 5th 2014 (subscribers will be informed of their bonus content via mail).