Fetch TV 123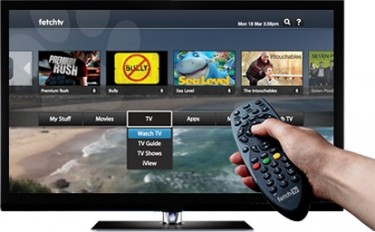 You've probably been hearing a lot about Fetch TV. This FAQ style guide hopes to answer the most common questions about what Fetch TV is, and why you will want it!
Q: What is Fetch TV
A: Fetch TV is best described as a hybrid platform that combines free-to-air TV viewing with PVR functions, with a movie-on-demand service, as well offering a wide variety of premium channels via IPTV. It's like combining your PVR, your Foxtel via Internet service and Bigpond Movies, all in one set-top-box.
Q: What can I watch on Fetch TV?
A: Content is divided into these different categories:
Free-to-Air: All your free-to-air channels are available through Fetch TV, and with the built-in PVR, you can record and live pause/rewind all your shows.
Subscription Channels: You can get access to channels like ESPN, MTV, National Geographic, Animal Planet, BBC World News, CCTV News ... all delivered via the Internet
On-Demand Movie Rentals: Rent the latest new movie releases from $5.95
Movie Box: 30 pre-selected on-demand movies available for free for all Fetch TV subscribers, with 7 fresh titles every week
TV On-Demand: On-demand TV shows
YouTube: Watch YouTube clips directly from your Fetch TV box
Note that depending on your ISP and the Fetch TV package you've chosen, some of the content listed above may not be available.
Q: Are there different Fetch TV packages?
A: A Lite and Full package is available for Fetch TV.
The Lite package is available to anyone with an Internet connection, and includes all the free-to-air features (like recording, live pause/rewind, full electronic program guide ...) and the on-demand movie rental service.
The Full package is only available to customers of selected ISPs (see "Can I get Fetch TV?" below), and includes all the features of the Lite package plus subscription channels, plus subscription channels, Movie Box free movies on-demand, TV on-demand, and optional World TV package featuring foreign language channels from countries like India, China and Korea.
Q: Can I get Fetch TV?
A: Almost everyone with an adequately Internet connection can get Fetch TV. The Fetch TV Lite package only requires broadband speed of 1.5 Mbps of above, but the full HD service is best with an Internet connection of 7.5 Mbps or better.
The Fetch TV Full package is only available to these selected ISPs: Optus, iiNet, Internode, Westnet, Adam Internet and TransACT. Note that you must be using one of these ISP's own Internet connection services, not a wholesaled Telstra service. For example, Internode users of the Easy Broadband plans, which connect to Internode DSLAMs can access the Full package, but users of the Easy Reach Telstra wholesale plans can only get Lite.
Q: How much is it?
A: Plans and packaged channels differ with each ISP, and so the best place to get started is at the official Fetch TV website here. Some ISPs will allow you can buy the Fetch TV box outright (for example, $299 at Internode), or you can choose to rent the STB for a small fee or with the fee already included in your monthly payment.
Monthly plans start at $4.95 (if you have your own STB), with the Full package usually at around $19.95 per month. You can then add on packages like the The Great Wall Mandarin package for an additional cost per month.
Q: How much bandwidth will Fetch TV use?
A: If you sign up with one of the partnered ISPs, all bandwidth consumed by your Fetch TV device is unmetered! For those on another ISP, the following may help you figure out how much bandwidth may be needed:
SD, 4.6 Mbps recommended: A typical 2 hour movie would be around 4GB
HD, 8 Mbps recommended: A typical 2 hour movie would be around 7GB